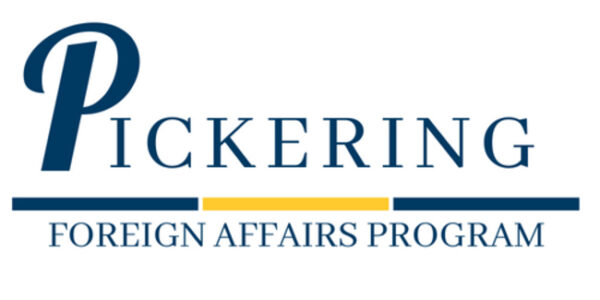 Vanderbilt alumnae Brianne Berry, BA'17, May Braverman, BA'17, Jessica Moore, BA'15, and Abigail Wei, BA'18, have each been awarded 2021 Thomas R. Pickering Graduate Fellowships. Funded by the U.S. Department of State, this fellowship prepares outstanding young people for foreign service careers by providing financial support for graduate study as well as two State Department internships, one domestic and one international.
Vanderbilt tied with the University of California, Berkeley, for having the highest number of alumni selected for the program from a single university this year. The selection committee chose 45 Pickering Fellows from more than 1,300 applicants.
Berry, originally from New Jersey, currently works as an immigration services officer at U.S. Citizenship and Services. At Vanderbilt, she majored in English and Latin American studies. While studying abroad in Valparaiso, Chile, she conducted research on social capital and youth development. After graduating, Berry taught Model UN to Spanish teenagers as a Fulbright Scholar in Madrid, Spain.
Braverman, born in China and adopted to the United States, grew up in New York City. Upon graduating from Vanderbilt with a degree in Asian studies, she spent two years abroad as a Critical Language Scholar in Taiwan and a Princeton-in-Asia Fellow in rural Xizhou, Yunnan, China. During her fellowship, she worked for the Linden Centre, a boutique hotel and cultural center, in the fields of education, marketing and sustainable tourism.
Moore, from New York City, received a degree in political science and Latin American studies from Vanderbilt. As an undergraduate, she interned at the City Council of Medellin in Colombia and studied abroad in Santiago, Chile. After Vanderbilt, Moore worked for a year teaching English at a university in Quito, Ecuador.
Wei grew up in Maryland. During her undergraduate career at Vanderbilt, she spent a summer living among and volunteering in Delhi's Afghan refugee community. She moved to Delhi after college to work at a data-tech startup and is currently on the talent team at Sidewalk Labs. Her languages include Mandarin Chinese, Hindi and Spanish.
Named for Thomas Pickering, a former undersecretary of state for political affairs who also has served as U. S. ambassador to the Russian Federation, India, Israel, El Salvador, Nigeria and Jordan, the Pickering Fellowship Program, which is administered through Howard University, offers students the opportunity to promote positive change in the world through foreign service. It was created to recruit talent representing the ethnic, gender, social and geographic diversity of the United States.
In 2021, the program increased its number of selected fellows by 50 percent and expanded to include a fuller range of internationally focused master's degree programs. Upon successful completion of the Pickering program and foreign service entry requirements, fellows receive appointments in the U.S. State Department's Foreign Service.