Rather than allowing faith to fracture our politics, it should be used as a guiding force to help unify our communities, said former two-term Tennessee Gov. Bill Haslam in a virtual discussion on May 25 with Vanderbilt Divinity School Dean Rev. Emilie Townes and author and political columnist Peter Wehner.
The talk was part of a series of events led by the Vanderbilt Project on Unity and American Democracy, which Haslam co-chairs. It was presented in conjunction with the Fetzer Institute and Vanderbilt Divinity School.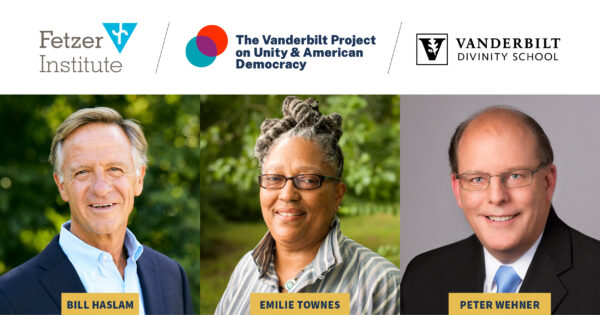 "The peril to me is really simple. Too many of us have let our politics determine our faith, rather than our faith determine our politics. And the result of that is we go into arguments looking to win the argument instead of finding the truth," said Haslam, author of Faithful Presence: The Promise and the Peril of Faith in the Public Square (Thomas Nelson, 2021).
Haslam called on faith leaders to help their followers learn how to listen more and interact on social and political issues as "broken, imperfect people" to find common ground.
The participants agreed that at this time in history, the religion wrapped in people's practice of politics is creating deep fractures and stoking people's fears. And fear often ignites violence and hatred.
"Unlike anything that I've experienced in my public life, there is an almost existential fear among a lot of Christians that the culture in the country they have known is not only sliding away but is under attack and may very well die. And it is leading to hate," said Wehner, a former adviser to the Reagan administration and both Bush administrations and now senior fellow at the Ethics and Public Policy Center. "Yet one of the most frequent admonitions in the scriptures is 'do not be afraid.'"
Townes noted that many Christian denominations are also fighting among themselves.
"Even our churches are cutting their eyeteeth on culture before faith," Townes said.
'Don't give up on the public square'
Haslam discussed how his faith led him into public service and influenced his behavior on issues that he couldn't affect as a business executive.
"If you really believe in the common good … this idea that we're to be concerned about more than just ourselves and our tribe and our neighborhood and our church—then one of the best ways I've seen to impact the common good really is politics," Haslam said.
He gave two examples, one of which he considered a great success—launching Tennessee's free community college program—and one he called one of his greatest failures: not convincing the Tennessee legislature to expand the state's Medicaid health plan through the Affordable Care Act.
"For me, being a mayor of Knoxville and then a governor felt more like being a pastor than a CEO, and I mean that in the sense of helping people solve real problems in their lives and being involved in that relationship give and take," Haslam said. "So don't give up on the public square, as exhausting as it is, because it does matter for the common good."
At one moment in the discussion, Townes led participants in a virtual cheer to focus on optimism to help foster community and much-needed kindness.
"I am a person bone-deep in hope," Townes said. "I don't believe despair is that helpful, at least not for the long term. It may be a good signal that something's wrong and that we need to change it. But hope is, as I like to say, what gets God up in the morning doing a standing ovation. We need to live in that hope. And I think politics is one of those areas where it could happen."
Watch the full discussion here. >>