Acquisition launches Vanderbilt/NMAAM partnership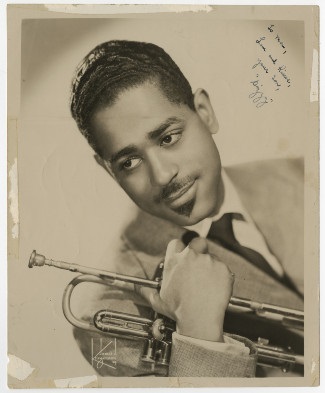 Vanderbilt's partnership with the National Museum of African American Music has taken a giant step forward with the university's inaugural acquisition—a rich collection of portraits, personal scrapbooks, signed albums and more from the life and career of Dizzy Gillespie, a seminal figure in the development of bebop and modern jazz.
"This collection ensures that Vanderbilt will be a destination for future generations of Dizzy Gillespie scholars," said Vanessa Beasley, vice provost for academic affairs and dean of residential faculty. "I'm grateful for the strong collaboration with NMAAM, which makes this exciting initiative possible, and eager for researchers, museum patrons and other community members to engage with these materials."
"With Vanderbilt's support, we have the opportunity to build a world-class archive of African American music, and the acquisition of the Dizzy Gillespie Collection is an excellent start to realizing that vision," said Steven Lewis, NMAAM curator. "We are proud to help bring this priceless collection to our shared community of music lovers and scholars."
Among those joining Beasley and Lewis for the "unveiling" of the Gillespie collection on May 17 were Lorenzo F. Candelaria, Martha Rivers Ingram Dean of the Blair School of Music; Douglas Shadle, associate professor of musicology; Joy Calico, Cornelius Vanderbilt Professor of Musicology; Holling Smith-Borne, director of the Wilson Music Library; Kathleen Smith, university archivist, Special Collections and University Archives; and Celia Walker, associate university librarian for distinctive collections, engagement and strategic assessment.
Notable pieces they viewed included Gillespie's personal scrapbooks with hundreds of photographs from his State Department-sponsored tours of the Middle East as America's first "jazz ambassador." During the 1950s, he visited Iran, Lebanon, Syria, Turkey, Greece, Pakistan and Yugoslavia, helping to improve Cold War diplomatic relations through jazz.
Shadle, who serves as chair of the Department of Musicology and Ethnomusicology, noted that the Gillespie materials are in keeping with the Vanderbilt/NMAAM shared vision of public-facing engagement and teaching and research. "I have done a cursory dive through current scholarship on Dizzy Gillespie," Shadle said. "This acquisition offers much in terms of not only his tours of the Middle East, but also Gillespie's collaborations with jazz icons like Chuck Mangione and Charlie Parker as well as Jim Henson, creator of the Muppets."
Gillespie was among the early musical stars to perform on The Muppet Show and Sesame Street; the collection's heirlooms include Miss Piggy and Kermit the Frog muppets that he received from Henson.
Gillespie is also recognized as a key early theorist of bebop. "Dizzy was the type of person who always had time to sit down at the piano and explain harmonic concepts to younger and less experienced musicians," Lewis said. "That commitment to education helped to codify the innovations of the bebop pioneers for the jazz educators and students of the future."
Items acquired by the Heard Libraries will be made available to Vanderbilt faculty and students and loaned to NMAAM to support their exhibit program and educational events. The collections also will be used for student learning experiences such as Immersion Vanderbilt and the Buchanan Library Fellowships.
The Heard Libraries' acquisition of the Dizzy Gillespie Collection was made possible by the Academic Archives Purchasing Fund, an internal faculty funding program within the Office of the Provost.