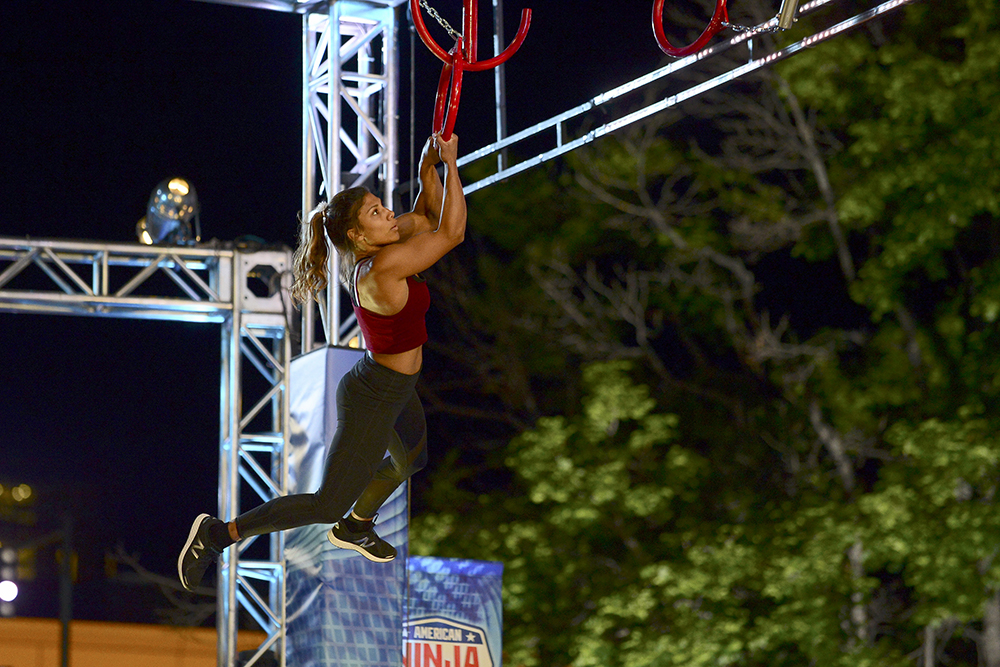 When Meagan Martin, BA'12, made her debut as a competitor on the popular NBC show American Ninja Warrior in 2014, the conditions were less than ideal. Her call time during the Denver qualifiers was midnight, and, it being an outdoor event, there was some concern about the weather.
None of those factors, however, prevented her from turning in a history-making performance. Getting past a series of fiendishly difficult obstacles, known by names like the "Devil Steps" and the "Warped Wall," Martin became the first female rookie to complete the course.
"I didn't even know what I had done," she says of her remarkable run. "I just wanted to complete the course because I'm competitive. I think my greatest accomplishment on American Ninja Warrior is showing girls that it's possible to compete with the boys and be strong and successful. When a little kid tells you that you're their inspiration, there's nothing better than that. I love being a role model."
Since its premiere in 2009, American Ninja Warrior has become a cultural phenomenon across the U.S., particularly among younger viewers. Its popularity has led local gyms to offer classes featuring obstacle courses inspired by the show, and even motivated some fans to build scaled-down versions of the courses in their own backyards.
Martin herself spent much of her childhood inside a gym in Lake Mary, Florida, where her parents encouraged her natural athletic abilities. Her father, Gerald Martin, is a former college gymnast who competed in the 1984 Olympic trials, and her mother, Beth, is an accomplished gymnastics coach.
"There are photographs of me pulling up on a bar before I could even walk," Martin says with a laugh.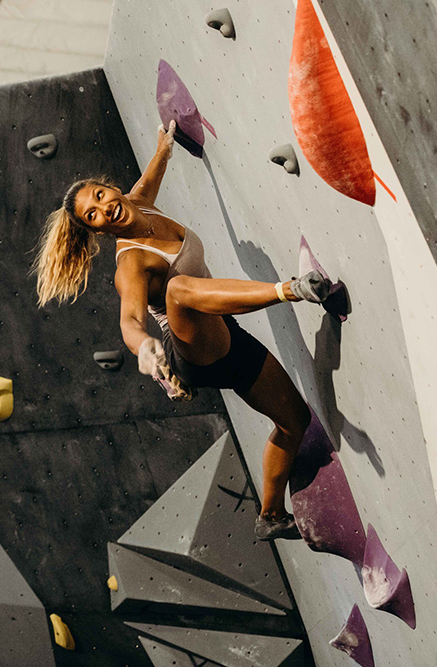 Following in her parents' footsteps, Martin began participating in gymnastics competitions at age 5, and she never looked back. When she was 10, she switched from gymnastics to rock climbing, and she began entering professional climbing competitions at age 12. In high school she discovered pole vaulting—the sport that brought her to Vanderbilt.
"Vanderbilt was one of the universities that recruited me for an athletic scholarship," Martin says. "I was a bit nervous about going there at first, but once I visited the school I fell in love with it immediately. The high-caliber academics was important to me, so I decided that's where I wanted to go."
An English major, Martin became a standout athlete in track and field, specializing in the pole vault. "I held the Vanderbilt pole vault record for a few years, and in my senior year I made it to the NCAA regionals," she says. "That was a really nice accomplishment."
Martin turned to professional rock climbing upon graduation and saw numerous doors open for her, including modeling, broadcasting and competing on American Ninja Warrior.
Martin quickly became a fan favorite on the show and was asked to be a mentor on American Ninja Warrior Junior, a competition for young people. "I was there to support the kids and give them tips and advice on how to deal with certain obstacles," she explains. "My goal was to make them feel as confident as possible going up to the starting line—and making sure they had a good time."
Martin credits Vanderbilt with giving her the skills she needs to succeed on American Ninja Warrior. The university, she says, prepared her for the experience because she was driven by both her academic instructors and her athletic coaches.
"You're not cut any slack because you're an athlete," she says. "Your instructors expect you to do everything that everyone else must do. That has helped me moving through life because it's all about managing your time and staying in the right head space for things that are important."
Martin will be competing in the 2021 season of American Ninja Warrior—her eighth—while other aspects of her career continue to blossom. She still rock climbs competitively, provides color commentary during USA Climbing events on ESPN, and does modeling for Athleta, a workout clothing company. She's also studying for her real estate license, a goal she set while at home during the pandemic.
Reflecting on the value of her time at Vanderbilt, Martin has some sage advice for current and future students: Dream big and go for it. "At Vanderbilt, you're getting the tools you'll need to be successful," she says, "so put it all out there and go after what you're passionate about."
—DON VAUGHAN