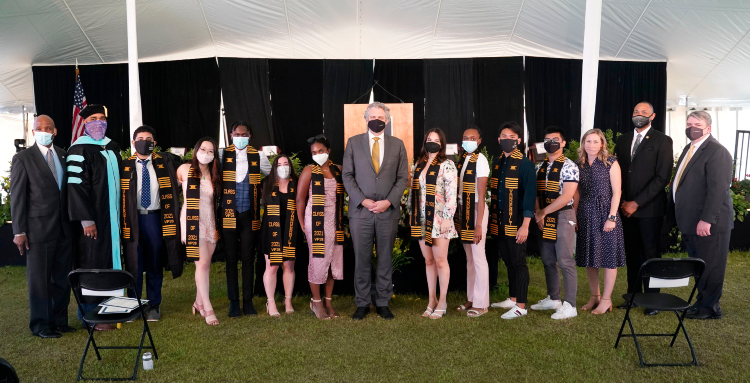 A number of Vanderbilt graduates participated in recognition ceremonies supported by the Provost's Office for Inclusive Excellence May 13–14 as part of the university's 2021 Commencement celebrations.
Four of the events were held virtually on May 13, including Vanderbilt's inaugural Native Americans and Indigenous Graduates Recognition Ceremony. Sponsored by the Student Center for Social Justice and Identity, the ceremony was an opportunity for the Vanderbilt community to celebrate Indigenous graduates and congratulate their families for supporting the scholars' academic journeys and achievements.
"The Native/Indigenous Graduates Recognition Ceremony was the first-ever ceremony this year hosted by the Student Center for Social Justice and Identity, and it was a great first step in celebrating all of our Native and Indigenous graduating students," said Antonella Valdívia, program coordinator for the SCSJI.
The annual Lavender Celebration, a tradition that began at Vanderbilt in 2008, celebrates the contributions of lesbian, gay, bisexual, transgender, queer, intersex and allied graduating students as well as faculty and staff. Earlier in May, the Office of LGBTQI Life sponsored a three-day social media takeover that highlighted members of the university community who serve as leaders in the LGBTQI Life office, announced the winners of the annual LGBTQI Life Awards, and spotlighted Vanderbilt's 2021 LGBTQIA+ and allied graduates.
"Being a member of the Vanderbilt LGBTQI+ community has impacted every single aspect of my life, from social and emotional to political and academic," said Lena Robertson, a 2021 graduate who earned a bachelor's degree in psychology and philosophy. "I absolutely could not have gotten through four years here without my QTPOC family, specifically, and I wouldn't be the person I am today if it weren't for the support of the LGBTQIA+ community at Vandy."
Network First-Gen, a Provost's Office for Inclusive Excellence identity initiative, partnered with FirstVU to host a recognition ceremony for graduating first-generation students. The inaugural event featured a musical performance and messages from university administrators and students.
Abigail Forsythe, who earned a bachelor's degree in cinema and media arts and psychology, said being part of the inaugural event was "an honor."
"It is a testament to the real and tangible change that first-generation students are making on this campus as well as a celebration of their great success," Forsythe said. "As a fellow first-generation student, it was inspiring to hear from the lineup of speakers and then see each of the graduates one by one on my computer screen. I hope that we can continue to grow this celebration in the coming years to further uplift and acknowledge the incredible resilience, hard work and dedication that goes into being a first-gen student, especially at a university like Vanderbilt."
PersistVU, another Provost's Office for Inclusive Excellence identity initiative, partnered with QuestBridge to host a graduates' recognition ceremony for scholars from low- and lower-income backgrounds. This inaugural event also included messages from university administrators and students.
"I'm so honored to have been able to participate in the inaugural PersistVU Graduate Recognition Ceremony. I started my college experience with other low-income students through QuestBridge, and it only felt right to end it by celebrating with the same group," said Amelia Taylor, who earned a bachelor's degree in chemistry and philosophy. "I have spent much of my time at Vanderbilt advocating for low-income students' voices to be heard and celebrated, and the ceremony did just that. It was a chance to recognize the uniqueness of our experience and celebrate all we have overcome as a group to make it this far."
Three in-person recognition ceremonies were held on campus May 14. Graduates in Vanderbilt's Posse Scholars Program received graduation stoles and Vanderbilt memorabilia to commemorate their time and experiences as Posse Scholars. The Posse program brings public school students from New York City to Vanderbilt on full-tuition scholarships. The scholars receive training and support from program staff, campus mentors and peers within their cohort.
The recognition ceremony was "a beautiful end to this chapter of our lives," said Innes Reytblat, who earned a bachelor's degree in human and organizational development. "We were so grateful to celebrate in person, and I am so excited to continue to see my Posse grow and accomplish amazing things. A massive shoutout to our mentors for guiding us through many highs and lows over the last four years."
The annual Latinx Graduates Recognition Ceremony, "Raíces y Sueños," celebrates the achievements and successes of all graduating Latinx students. The event serves as a unique space for graduates to pay homage to family, friends, faculty, staff and administrators who have supported their journeys. This year's attendees celebrated with music, the presentation of graduation stoles, guest speakers, student awards, photos and more.
Jaylen Martinez, who earned a bachelor's degree in English and creative writing, acknowledged how impactful it was to find community within the Association of Latin American Students, especially since he grew up attending predominantly Latinx schools. ALAS collaborates with the Student Center for Social Justice and Identity to host the annual Raíces y Sueños celebration.
"The friends I made in this process have all put so much time and energy into continually trying to build and support a strong community," he said. "Seeing the culmination of all of our efforts represented couldn't make me prouder of myself and my peers. I can't wait to see the bright future of Vanderbilt's Latinx communities, and I could not be prouder of what my friends have and will achieve."
The Black Graduates' Recognition Ceremony is a Vanderbilt tradition spanning more than three decades and is the culmination of the hard work and dedication Black students put in over their four years as undergraduates. The event serves to recognize their accomplishments as well as honor the parents, family members, friends, faculty, staff and others who have supported their endeavors. This year's ceremony featured the graduates' processional, Harambee and Trailblazer awards and an opportunity for every graduate to stand on stage while their degree was read and their families were recognized.
"Because the Black Cultural Center was such an integral part of my time at Vanderbilt, I felt that I needed to attend the ceremony to celebrate my and everyone else's accomplishments in a more intimate setting," said Erin Hardnett, who earned a bachelor's degree in African American studies, economics and English. "Every Black graduate on campus overcame so many obstacles that others did not even have to worry about, thus making our achievements that much more impressive and worth celebrating with those who understand and were there through the hardships."