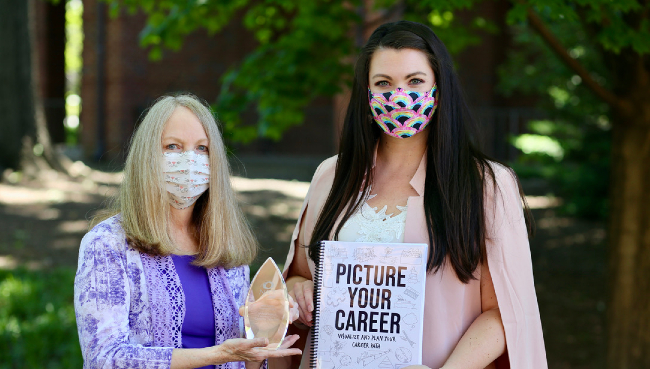 The Career Center's Katharine Brooks and Grace Foy have received the NACE/Chevron Award from the National Association of Colleges and Employers. The award recognizes outstanding achievement in innovative programs in the career services field throughout the United States.
Brooks and Foy's entry, Picture Your Career: Visualize and Plan Your Career Path, is the first book dedicated to visual-thinking techniques applied to career planning and exploration. It provides creative and cutting-edge activities for career practitioners working with students, as well as employers working in training and development with new interns or staff. The book has been downloaded more than 9,000 times since it was first published in July 2020.
"We had great support at Vanderbilt for the project, from legal counsel to Communications to the University Press," said Brooks, the Evans Family Executive Director of the Career Center. "The book would not have been possible were it not for a gift from Mr. John R. Loomis and Mrs. Carol J. Loomis, whose funds were used to pay for the illustrator, Emily Mills." Brooks is stepping down from her leadership of the Career Center at the conclusion of the spring 2021 semester to further pursue her writing and consulting career.
Brooks and Foy have donated the $1,000 cash prize associated with the award to the Career Center. In addition, Vanderbilt will receive a trophy and be celebrated through several avenues by NACE, including a feature in a future issue of the NACE Journal.
"It feels great to be recognized by NACE for this project," said Foy, associate director for strategic communication and external relations at the Career Center. "What makes Picture Your Career so special is that it is fun and accessible, and it's free to all career services professionals and students seeking clarity about their future."
NACE represents nearly 10,000 four-year and two-year college members and more than 3,500 employer members who hire college graduates.
Students can learn more about career exploration by contacting the Career Center or by making an appointment with a career coach in DoreWays.
Download a free copy of Picture Your Career.