Media Inquiries
Latest Stories
Iris Shepherd, a 15-year-old Blair Academy violin student, recently won the 2021 Music Teachers National Association's Senior Strings Division national finals, beating out peers aged 15 to 18. Guided by Connie Heard, the Valere Potter Chair, Strings Department chair and professor of violin at the Blair School of Music, Shepherd has also been a recipient of the prestigious Myra Jackson Blair Senior Scholarship that covers her private instruction with Heard and a plethora of courses in musicianship, music history and music theory.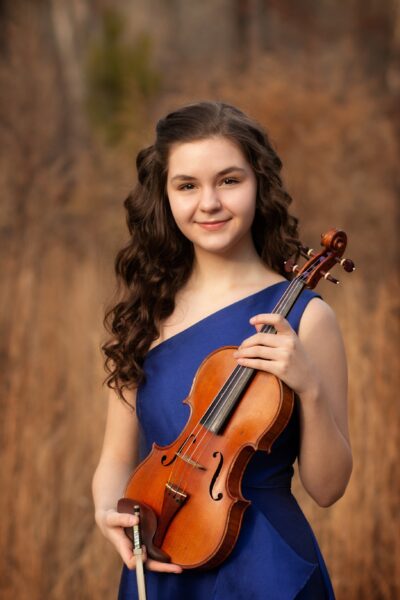 Though 2020 was difficult due to the COVID-19 pandemic, Shepherd managed a banner year. To qualify for the national competition, she had to win the MTNA state and regional competition rounds. Her program consisted of four pieces that had a high degree of difficulty and varied widely in style: first movement of the Violin Concerto in D minor by Jean Sibelius; Variations on the Last Rose of Summer by Heinrich Wilhelm Ernst; first movement of the Violin Concerto by Edgar Meyer; and Aalap and Tarana by Kala Ramnath.  
"She loves everything you give her, whether an etude, a modern piece or one of the great concertos, which is unusual," Heard said of her student. "She has tackled a lot of mature repertoire at a very young age and possesses the patience and the intelligence to learn very challenging material thoroughly. When I asked her to listen to the last two Beethoven Piano Sonatas as well as a Beethoven String Quartet, she came to her next lesson having listened to all 32 Piano Sonatas and all 16 String Quartets." 
Shepherd also won the Jack Kent Cooke Young Artist Award Scholarship, which includes a $10,000 prize, the opportunity to perform on the NPR and PBS program From the Top, and arts leadership training to be an ambassador of classical music. Shepherd will be featured on an episode scheduled to air on May 18, which will include an interview and a fiddling performance. What is most impressive about these achievements is that she competed in all these competitions virtually, which required sending in unedited videos of her performances and using additional technical sound equipment. 
As co-director of the chamber music program at the Aspen Music Festival and School and an adjudicator for regional and national competitions, Heard has observed and trained many remarkable young violinists. This experience has allowed the Juilliard-trained violinist to offer Blair students invaluable insight into what it takes to become an elite musician on the world stage.  
As a performer, Heard is part of the Blair String Quartet and travels to perform and give master classes to audiences worldwide. Heard gives private instruction not only to college students at Vanderbilt's Blair School of Music, but also to youth in Blair Academy's pre-college program, including Shepherd.  
The Blair Academy at Vanderbilt "is committed to making the study of music possible for all qualified students" by awarding scholarships by audition—a cornerstone of its founding in 1965. With the generosity of donors and trusts, Blair Academy awards nearly $400,000 in merit- and need-based scholarships annually. The Blair Academy's philanthropy was essential in facilitating Shepherd's competition wins.  
"[The awards are] an encouragement to me as I press forward in my musical studies," said Shepherd, who began playing violin at age 3 and practices about six hours daily. "Not only is it an individual affirmation of my performance abilities, but it is wonderful to see that organizations are still supporting young artists by providing opportunities and resources toward their development."  
Hear Shepherd play Kreisler's "La Gitana": vu.edu/shepherd-la-gitana.