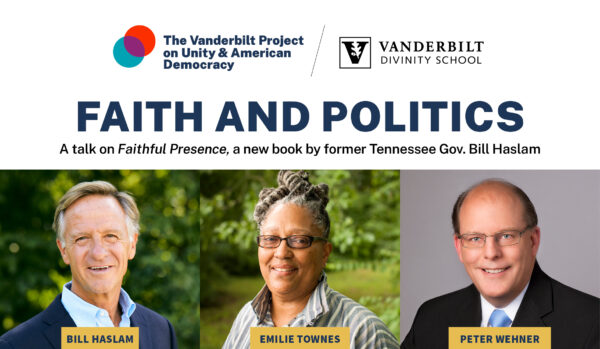 The Vanderbilt Project on Unity and American Democracy, the Fetzer Institute, and Vanderbilt Divinity School will present a discussion on the role that religious faith plays in politics as explored in Faithful Presence: The Promise and the Peril of Faith in the Public Square, a new book by former Tennessee Gov. Bill Haslam.
The event is scheduled for Tuesday, May 25, from noon to 1 p.m. CT.
The discussion will be virtual and is open to the public. Registered participants may submit a question for consideration by the moderator.
With an introduction from Vanderbilt University Chancellor Daniel Diermeier, the discussion will feature:
Gov. Bill Haslam, the former two-term governor of Tennessee and former two-term mayor of Knoxville, Tennessee. He is also a co-chair of the Vanderbilt Project on Unity and American Democracy.
Rev. Dr. Emilie M. Townes, a renowned womanist scholar, leader in theological education and dean of Vanderbilt Divinity School; and
Moderator Peter Wehner, a contributing opinion writer for the New York Times, former adviser to the Reagan and Bush administrations and senior fellow at the Ethics and Public Policy Center, an interfaith institute that works to apply the riches of the Judeo-Christian tradition to contemporary questions of law, culture and politics in pursuit of America's continued civic and cultural renewal.
Together, they will explore Haslam's vision for the redemptive role of faith in politics, its potential to be a healing presence in the public square, and other key themes from Faithful Presence.
As a former mayor and governor, Haslam has long been at the center of politics and policy on local, state and federal levels. He has consistently been guided by his faith, which influenced his actions on issues ranging from capital punishment to pardons, health care to abortion, welfare to free college tuition. Yet the place of faith in public life has been hotly debated since our nation's founding, and the relationship of church and state remains contentious to this day—and for good reason. Too often, Haslam argues, Christians end up shaping their faith to fit their politics rather than forming their politics to their faith. They seem to forget their calling is to be used by God in service of others rather than to use God to reach their own desires and ends.
Faithful Presence calls for a different way. Drawing upon his years of public service, Haslam casts a remarkable vision for the redemptive role of faith in politics while examining some of the most complex issues of our time, including:
partisanship in our divided era;
the most essential character trait for a public servant;
how we cannot escape "legislating morality";
the answer to perpetual outrage; and
how to think about the separation of church and state.
Faithful Presence: The Promise and the Peril of Faith in the Public Square, published by Thomas Nelson (Harper Collins Christian Publishing), is available May 25 anywhere books are sold.
About the Fetzer Institute: 
With a mission to help build the spiritual foundation for a loving world, the Fetzer Institute works to catalyze a global movement that encourages personal spiritual exploration and new ways of knowing our sacred world. Its collaborations focus on areas such as the health of our democracy and the landscape of spirituality in society. The Institute believes that nurturing transformed communities in which all people can flourish requires us to go beyond political, social, and economic strategies to address the psychological and spiritual roots of the world's most critical issues. Find resources and learn about the Institute's ongoing work at fetzer.org.
The Vanderbilt Project on Unity and American Democracy is a nonpartisan initiative that aims to elevate research and evidence-based reasoning in the national conversation. Drawing on original research, evidence-based papers and crucial conversations from Vanderbilt's world-class faculty and visionary thought leaders of all political persuasion, the timely endeavor aims to give policymakers and the public the tools needed to combat conspiracy and unfounded ideology with evidence, data and respectful discourse. The Vanderbilt Project on Unity and American Democracy can make a meaningful contribution to solving society's most pressing challenges and bridging our deepest differences. Stay informed on project news, events on demand and research at vu.edu/unity.