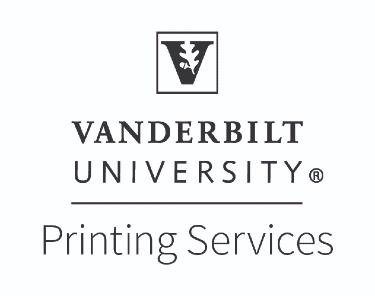 Vanderbilt Printing Services is restructuring its operations, consolidating its footprint from an off-campus warehouse on Chestnut Street and will reopen in the former Campus Copy store located in Rand Hall in early June. Once fully operational, orders can be picked up at the Rand Hall location, delivered directly to campus offices or shipped anywhere in the world via FedEx.
Moving forward, the new VPS will have a leaner staff and an all-digital print workflow. With increased efficiencies and lower operating costs, the newly redesigned operation will offer quick turnaround times, high-quality brand-compliant work, and low costs for departments in need of printing, said Sean Carroll, director of marketing and communications for Vanderbilt Business Services.
VPS found itself at the center of the university's Return to Campus initiative last summer and was tasked with producing thousands of signs, decals and other graphics to support the communication of COVID-19 health and safety protocols on campus. Collaborating with partners in Facilities, VU Public Safety and the Division of Communications, Printing Services leveraged its in-house expertise, along with a complement of efficient sign-production equipment, to keep pace with the unprecedented demand for printed signage.
"In the initial days of the pandemic, fast response time, institutional knowledge, and the ability to say 'yes' to any challenge were key to making this project a success," Carroll said. "Despite the difficulties, this season demonstrated the power and benefits of an internal printing operation and helped pave the way for its rebirth now."
In addition to the move, Printing Services will be adding some new equipment and capabilities, including:
A Xerox Iridesse digital press with the ability to print metallic Vanderbilt gold, in addition to clear and white ink options. This allows for eye-catching special effects, like white ink on black media and clear gloss ink to highlight photos.
Engraving equipment, allowing VPS to produce engraved plastic name badges, office nameplates, and building wayfinding and directional signage. To support the university's goal of a more accessible campus, ADA-compliant braille and tactile lettering also can be produced.
The new VPS is located at 268 Rand Hall and open Monday–Friday from 8 a.m. to 4 p.m. each day. Orders can be submitted online via Printing Services' digital storefront at vu.edu/print, or by emailing printingservices@vanderbilt.edu.