Media Inquiries
Latest Stories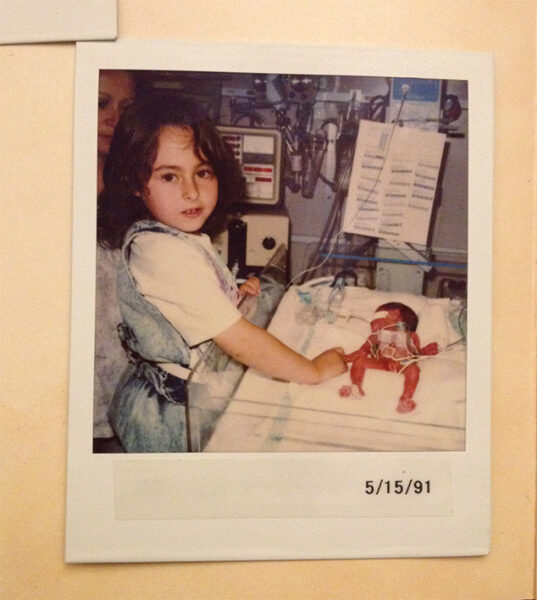 When Demetra Hypatia Hufnagel was born, she weighed two pounds at just 26 weeks gestation. But that tumultuous entrance into the world set her on a trajectory that would inspire her bright future and affect the futures of many young lives to come.
Hufnagel is graduating from the Vanderbilt University School of Medicine with a plan to become an obstetrician and gynecologist.
"When I was born so prematurely, my prognosis was uncertain. After countless blood transfusions, cardiac surgery and four months in an incubator, I was able to go home. I owe my life to the practice and practitioners of medicine, and my experiences with the health care system have inspired me to follow in the footsteps of those who cared for me," she said.
Compassionate care

Hufnagel spent much of her young life in and out of hospitals and doctors' offices in her hometown of Los Angeles. She suffered bouts of pneumonia and heart issues. But there was more than basic medical care happening in those offices.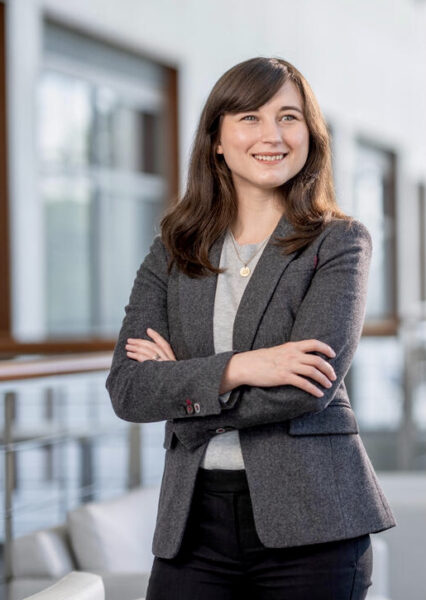 "I was continually amazed by the care I received, from sonographers thoroughly warming the gel before an echocardiogram to my pediatrician offering to show me slides on her microscope. I was fortunate to receive compassionate care that aimed to heal and foster my understanding of my body," she said.
This led to a lifelong fascination with human biology and a steadfast belief in caring for people in a holistic and nurturing way.
"I believe that physicians have a responsibility to be leaders and advocates in their communities," Hufnagel said. "In obstetrics and gynecology, I have found a unique mix of clinical and surgical care that allows each provider to take care of their patients holistically. I'm also passionate about health justice, and I am so excited to pursue a life in service of reproductive and sexual health through training as a gynecologist."
Journey to Vanderbilt

Hufnagel studied molecular, cellular and developmental biology at Yale University for her undergraduate degree, then she completed two years of research as a postgraduate research associate at Yale before entering medical school. She says it was the caliber of education combined with a fantastic sense of community that brought her to Vanderbilt.
"I felt an incredible sense of community starting on my interview day. I knew that Vanderbilt would provide me with unparalleled clinical and research opportunities, but nothing compared to the sense of camaraderie and support when I stepped on campus," she said.
Hufnagel said working as a team has also been a key element in teaching and learning.
"I will remember my time at Vanderbilt as defined by a spirit of collaboration. From the study guides my classmates made and shared during our preclinical studies to the wealth of interdisciplinary research opportunities that bring knowledge from the bench to the bedside, the medical education available at Vanderbilt models and aspires to effective partnership," she said.
And this current of collaboration suffuses the patient experience.
"Our professors and instructors have also prioritized collaboration between patient and provider in developing health care goals and making health care decisions," she said. "This is the type of doctor I want to be."
Care during COVID

As the world pivoted to deal with the COVID-19 pandemic, Hufnagel's dedication to reproductive and sexual health through the student-run Shade Tree Clinic adapted.
"As a leader of the Shade Tree Clinic, I worked with our other clinic leadership to quickly and flexibly convert our gynecologic patient care to a remote format where possible," she said.
As a Burroughs Wellcome Fund Vanderbilt SCRIPS Scholar, Hufnagel was able to conduct an additional research year focused on inflammation in ovarian cancer to create new understandings of therapeutic targets in ovarian cancer.
"I ultimately hope to complete a fellowship in gynecologic oncology, which will allow me to use a variety of skills and tools to provide those with gynecologic cancer a breadth of care options in conversation with their goals," she said.
"At Vanderbilt I have learned to walk with patients where they are, as well as ask and answer critical questions within the medical literature," she said. "I believe these are invaluable tools that will prepare me for my next step."
Hufnagel will be returning to the hospital where she was born to complete her residency in obstetrics and gynecology at the University of California, Los Angeles, with her partner, Michael Raddatz, VU PhD'20, MD'21, who will be starting his residency in internal medicine.
This profile is part of a series of stories and videos highlighting undergraduate and graduate students in the Class of 2021.