Provost and Vice Chancellor for Academic Affairs Susan R. Wente and Chancellor Daniel Diermeier welcomed back the Class of 2020 for a special in-person and virtual ceremony on May 1 at Vanderbilt Stadium.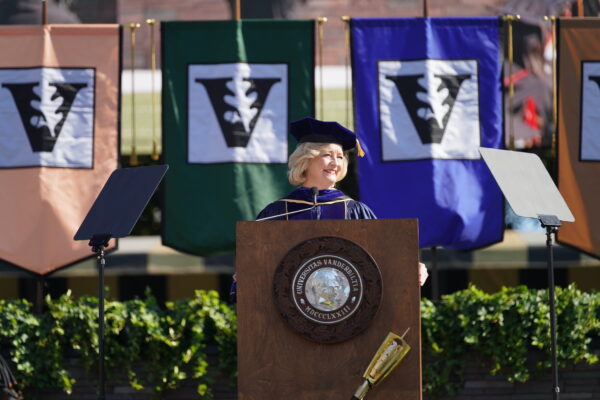 Wente served as interim chancellor when the Class of 2020 had their degrees conferred virtually last year and committed to hosting the Class of 2020 in person this spring when their ceremony was postponed due to COVID-19 last year. In her address, she called on these alumni to continue to meet transformative and challenging moments with the fortitude, intellectual resources and support networks they developed during their time at Vanderbilt.  
"Yours has been a time of unprecedented challenges from which the world is only now beginning to emerge," Wente said. "You inherited a uniquely complex and often frightening world, but I know you have entered it with unmatched resilience and in the spirit of service to the public good. Those laudable characteristics will be with you forever, and they are a well from which you will continually draw." 
Wente commended the group for "radically adapting" with compassion and grace and referenced her own "radical" experience of being the first woman to lead Vanderbilt as the university's interim chancellor when the COVID-19 pandemic hit. 
"Faced with one difficult decision after another, I had to rely on my values and the values of our institution, calling on our community to rapidly mobilize the compassion, creativity and remarkable ability to collaborate across boundaries that make our learning environment unique," she said. 
Wente commended students who adapted their graduation plans to help others during the pandemic, and she referenced a quote by the first Black female astronaut, Dr. Mae Jemison: "Make it the life you want to live." 
"In our relentlessly goal-driven society, it reminds us that there is no single right answer about what a person should accomplish in life, only that we can tap into our human potential to create a place for ourselves in the world," Wente said. 
Also during the ceremony, Vanderbilt University Board of Trust chairman Bruce Evans read aloud a resolution adopted by the board in appreciation of Vanderbilt students.  
" … Be it resolved that the Board of Trust expresses its deepest and most sincere gratitude to each and every Vanderbilt student for their hard work, adaptation and compassion during a year that has defined and advanced our ability to persevere."  
Read the full Board of Trust resolution.
In addition, Wente recognized the 2020 undergraduate Founder's Medalists on May 1, and 2020 Founder's Medalists for the graduate and professional schools were recognized at their individual school ceremonies. Wente also recognized the faculty who retired in 2020 and were awarded emeritus or emerita status.
Graduate and professional ceremonies

Graduate and professional students in the Class of 2020 were honored with separate ceremonies held by their respective schools across campus on Sunday, May 2. These ceremonies were also available virtually for those unable to attend. 
Watch the livestreamed Class of 2020 Commencement ceremonies. 
A total of 1,752 graduates from the Class of 2020 registered to attend the in-person ceremonies (1,166 undergraduate, and 586 graduate and professional). Some ceremonies were held for the first time ever at Vanderbilt Stadium to meet health and safety protocols, while others were held in tents.
Strawberries and chocolate

In a new twist on a longstanding and beloved Vanderbilt tradition of completing each Commencement with strawberries, each graduate attending in person had the opportunity to pick up a takeaway box of chocolate-covered strawberries, truffles and a commemorative gift.  
Graduates Day address
The special weekend of celebrations for the returning class started with a virtual Graduates Day address by bestselling author, attorney and former U.S. Ambassador to Japan Caroline Kennedy. Kennedy received Vanderbilt University's prestigious Nichols-Chancellor's Medal, one of the university's highest honors, which is given to individuals who define the 21st century and exemplify the best qualities of the human spirit. It was created and endowed by Vanderbilt Law School graduate Ed Nichols and his wife, Janice, in honor of Edward Carmack and Lucile Hamby Nichols.
Watch Caroline Kennedy's Graduates Day address.
More Class of 2020 Commencement