Media Inquiries
Latest Stories
Elizabeth Chamberlain, a U.S. National Science Foundation postdoctoral research fellow in earth and environmental sciences, has been awarded the 2021 Dr. Richard Faas Research Prize by the International Association of Sedimentologists. The early-career award, conferred every other year, recognizes outstanding work in the field of marine sedimentology and particularly research dealing with fine-grained sediments in oceans and estuaries.
Chamberlain researches how rivers move with time to shape landscapes, then relates this to how people adapt to those changing landscapes. To understand the prehistoric record, she employs a process called optically stimulated luminescence dating, which makes use of a light-sensitive "clock" in quartz and feldspar mineral grains. The luminescence clock is often "zeroed" when the grains are moved by rivers and begins to "tick" when the grains are buried by freshly deposited sediments and removed from sunlight, thus recording the timing of new land formation.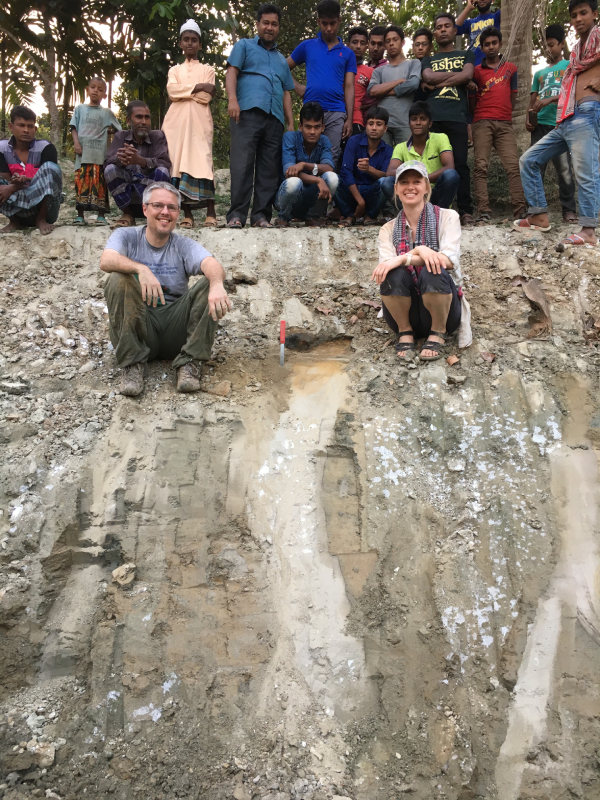 Chamberlain is using optically stimulated luminescence dating in the Ganges-Brahmaputra River Delta of Bangladesh. With her mentors, including Steven Goodbred Jr., chair and professor of Earth and environmental sciences, she has built a dataset that describes the work of small river channels to maintain a surviving portion of the delta. Her group is also testing a sedimentary archive from a large prehistoric earthquake, which triggered a major reorganization of river channels in the delta. Combined, these studies will help the densely populated nation of Bangladesh manage its rivers and plan for potential geohazards, Chamberlain explains.
"I am honored to receive this early-career award from the International Association of Sedimentologists. As a single parent of a young child, I've felt the common pressures faced by many women in science as we try to balance caregiver responsibilities with careers," Chamberlain said. "This has been particularly challenging over the past year. The effort of my mentors to nominate me and the recognition of my work by the International Association of Sedimentologists offer me great encouragement."
"Dr. Chamberlain is richly deserving of this recognition from IAS's Faas Research Prize. Her research on the rates of coastal landform development is essential for … efforts to sustain the world's at-risk river deltas," Goodbred said. "The quality of her research, coupled with her innovation in luminescence dating and her effective communication skills, define a stellar early career that is drawing well-deserved attention from the professional community and public stakeholders."
Chamberlain is also working on a project in Peru with Tom Dillehay, Rebecca Webb Wilson University Distinguished Professor of Anthropology and Religion and Culture, Emeritus, and on one in Louisiana's Mississippi Delta with colleagues at Tulane University and Louisiana State University—her alma maters. In September 2021, Chamberlain is scheduled to begin a faculty position in the Soil Geography and Landscape Group at Wageningen University & Research and at the Netherlands Centre for Luminescence dating.