As Vanderbilt reflects on the one-year mark of the COVID-19 pandemic and its impact, we are honoring the dedicated staff, faculty and students who rallied to support our One Vanderbilt mission and ensured that the university adapted amid unprecedented challenges.
 Ryan Storey
Interim grounds manager/assistant grounds manager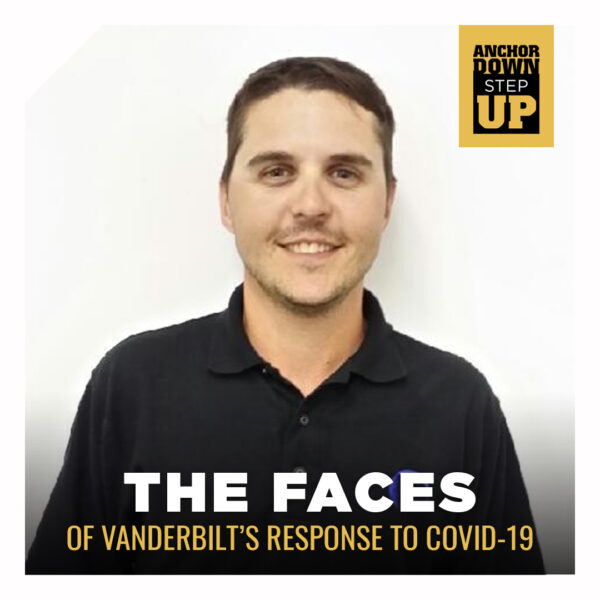 "Ryan Storey is what I'll refer to as one of the unsung heroes. He is the person who is behind the curtain, highly unassuming, does not look for attention or praise and gets things done. Ryan is the interim manager of the grounds department within Facilities Plant Operations. During the pandemic, he and his team have addressed the many difficult and always challenging and changing requirements for managing social distancing on campus. Ryan never complains. He's always positive and, somehow, leads (literally) his team in accomplishing tasks. There was [also the] issue of snow and ice in February that paralyzed the city and campus. We were open and operating, and Ryan's team, as many who could come to campus, were here, clearing parking lots, sidewalks, steps, etc., at times during the very early mornings and nights while many of us were in the warmth of our homes. Resulting from the pandemic, like many departments throughout campus, we purposely did not fill open positions in the attempt to reduce expenses. Ryan has done all of the above, and then some, with one arm tied behind his back—again, never complaining."
–Mike Perez, Associate Vice Chancellor and Chief Facilities Officer
How has COVID-19 affected you?
It has forced me to get outside of my comfort zone. I have done things I never thought I would be doing at work: painting circles, applying stickers, maintaining athletic fields for sports that are all in different seasons than normal. These are things that have presented challenges in our line of work. We also did not do a family Christmas due to my dad having COVID and being hospitalized. It was a hard decision, but it was the right one.
What keeps you motivated to help?
This pandemic is more than ourselves. It is about everyone else. Knowing that a decision I make can have an impact (positive or negative) on a greater population is no small task. We have to change how we think and do things while keeping everyone else in mind. I am lucky I never lost my job, unlike so many others. I am lucky I never lost a relative to COVID. We have a great comm"UNITY" at Vanderbilt. I emphasize "UNITY" because that is what it takes to be in the position we are now. Our staff and students have united and taken measures to ensure students are on campus. That keeps me motivated.
Who do you step up for?
I step up for my family. I step up for our Vanderbilt Comm"UNITY."