By Jane Sevier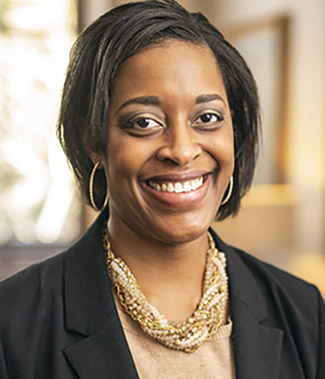 Candice S. Lee, the first African American woman to head a Southeastern Conference athletics program, will be honored by Vanderbilt's Peabody College of education and human development with the 2021 Distinguished Alumna Award during Class of 2020 Commencement on May 2 and Class of 2021 Commencement on May 16. A former student-athlete at Vanderbilt, Lee is the vice chancellor for athletics and university affairs and athletic director, the first woman to fill those roles.
For almost 20 years, Lee has been an integral leader at the university and in athletics. Before being named to her current post in May of last year, she had served in both positions as interim since February 2020. She was previously deputy athletic director, a role she was appointed to in 2016.
Lee holds three degrees from Peabody College. As a captain and four-year letter winner for Vanderbilt's women's basketball team, she graduated with a bachelor of science degree in human and organizational development in 2000. She also received her master's degree in human development counseling in 2002, and, in 2012, she earned her doctorate in higher education leadership and policy.
"I am proud to be a Peabody graduate, where I found a community that immediately embraced me, encouraged me, challenged me and consistently demonstrated for me the power of serving others," Lee said. "I aspire to use what I learned from Peabody every day. This recognition truly humbles me."
In 2019, Sports Business Journal named Lee to its "Power Players: College Sports" list, which recognizes individuals who have "distinguished themselves as some of the best thinkers, problem-solvers and dealmakers in college sports, and they will play a distinctly important role in its future." In 2018, Adidas named Lee to its prestigious "NEXT UP" class, comprising "senior-level administrators, handpicked by some of the most respected athletic directors in the industry, who are believed to be ready to take the next step as athletic directors in their own right."
In August 2020, Lee joined the newly created SEC Council on Racial Equity and Social Justice, a league-wide body consisting of diverse student-athletes, administrators, coaches and SEC staff. The council works to promote racial equity and social justice while also fostering diversity, helping overcome racism and pursuing nondiscrimination in intercollegiate athletics.
Lee formerly served as a member of the NCAA Women's Basketball Rules Committee, is the former chair of the NCAA Division I Women's Lacrosse Committee and a former chair of the SEC Senior Woman Administrators. In September 2019, she was named a 2019–20 fellow of the Tennessee Independent Colleges and Universities Association's Pressnell Executive Leadership Institute. She is a member of the 2012 Class of Leadership Nashville, the 2012 Vanderbilt Leadership Academy, the YWCA of Middle Tennessee Board of Directors and the SEC Executive Committee, the Tennessee Sports Hall of Fame Board of Directors, the Nashville Sports Council Board of Directors, The Family Center of Tennessee Board of Directors, and Black Athletic Directors Alliance Executive Committee.
"Peabody College seeks to instill in its students an ethic of service and altruism, and these are well embodied in the career and commitment of Candice Storey Lee," said Camilla P. Benbow, Patricia and Rodes Hart Dean of Education and Human Development at Peabody. "We are proud to honor her as Distinguished Alumna."
Candice Lee is married to Sean Lee, who is the executive director of the Smyrna Housing Authority. Their son, Andrew, is a graduate of Charleston Southern University.