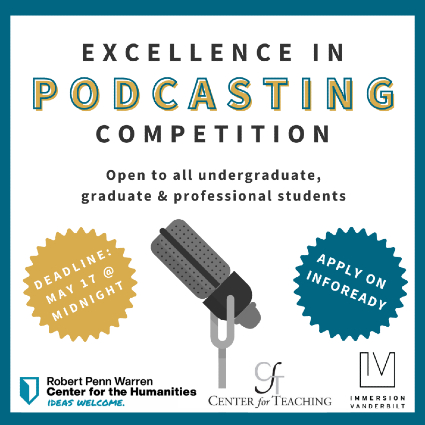 Storytelling can take many different forms, but there is something unique about how humans connect with and understand each other through listening to and telling stories. Whether it's on the radio, through a podcast or shared some other way, audio storytelling is a deeply humanistic endeavor. It's also a medium that Vanderbilt students are increasingly exploring as a way to communicate ideas, share perspectives, make arguments and persuade others.
To showcase and honor those explorations, Vanderbilt University has announced the Excellence in Podcasting Competition, open to all undergraduate, graduate and professional students. It is sponsored by the Robert Penn Warren Center for the Humanities in collaboration with the Center for Teaching and the Office of Immersion Resources.
Prizes will be awarded in two categories for undergraduate and graduate students. A grand prize of $500 will be awarded to the first-place winner in each category, while $250 will be awarded to the second-, third- and fourth-place winners. Winning pieces also will be featured on VandyVox, a podcast showcasing the best of student-produced audio at Vanderbilt.
Submissions should have some critical or creative storytelling, broadly defined, and may include audio documentaries, radio dramas, panel discussions, spoken-word essays and more. Submissions should be no greater than 20 minutes in length; excerpts from longer pieces or ongoing podcasts also will be accepted.
Students are allowed one submission each. All submissions for the Excellence in Podcasting Competition are due by Monday, May 17, at 11:59 p.m.
Questions? Contact Professor Holly Tucker at the Robert Penn Warren Center.
Please upload your audio file on the InfoReady application. Applications that do not include an audio file will not be considered. If you have issues uploading your file, please email immersion@vanderbilt.edu.