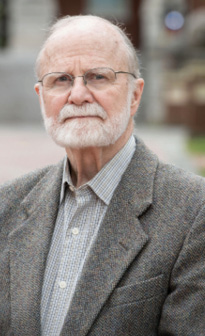 On a dark October night in 1991, a woman staggers along a country road. She says her husband, an Alabama backwoods bad boy turned serpent-handling preacher, tried to kill her by plunging her hand into a boxful of rattlesnakes. That's not an elevator pitch for a new horror series. It's true crime spun out in Alabama Snake, a recent HBO documentary based on a book by Vanderbilt alumnus Thomas G. Burton.
Folklorist Burton is to Appalachia what Shelby Foote is to the Civil War. But instead of telling stories about Shiloh and Gettysburg between draws from a pipe, Burton, in this documentary, is nestled fireside in an armchair, tumbler of scotch close at hand, as he recounts the macabre tale of Glenn Summerford, who was found guilty of attempted murder and sentenced to 99 years in prison.
Burton happened across this Southern Gothic story, which became his 2004 book The Serpent and the Spirit, as part of his lifelong interest in the people, religion, music and stories of southern Appalachia. That interest was sparked by Fugitive poet Donald Davidson's course on English and Scottish popular ballads at Vanderbilt.
"That class had a profound effect on me," Burton recalls.
His fascination led him in 1958 to what initially was a one-year faculty appointment at East Tennessee State University. He wound up staying and teaching in the English department for nearly 40 years. He helped establish and launch the ETSU Archives of Appalachia as well as the Tennessee Folklore Festival. After attending the renowned School of Scottish Studies at the University of Edinburgh, he founded a sister program at ETSU.
Burton, who has written eight books and produced four films reflecting the stories and songs of Appalachia, is still driven by his curiosity and respect for the place the region holds in American history.
"I don't want to stop as long as I am capable," Burton says. "I want to preserve these traditions before they are lost—give them a little bit of immortality."
—Jan Read