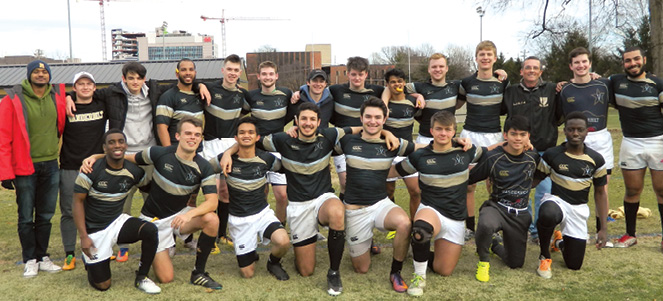 It started as a Yorkshireman's attempt to bring something of home to Nashville. More than 50 years later, the Vanderbilt University Rugby Football Club has roots of its own. For the generations of alumni who took Dr. Geoffrey Berry's idea and ran with it, the most enduring club sport on campus is central to the Vanderbilt experience.
Berry didn't set out to create a campus fixture in 1970, which was more than a decade after the native of Leeds, England, came to teach in the School of Medicine. His club's early members were a mix of undergrads, alumni and locals, who played and practiced at Centennial Park before sometimes retreating to Berry's home to watch 8mm films of New Zealand's legendary rugby team.
Dave Hurlock, BE'72, recalls, in fact, that counting a local police officer among their number could be particularly helpful when it came to dealing with parking tickets. Hurlock and fellow School of Engineering student Jim Brugh Jr., BE'72, were both members of the Vanderbilt football team. They brought gridiron experience to VURFC that included a 1969 upset of Paul "Bear" Bryant's mighty University of Alabama team.
For his part, Hurlock found rugby a release from the restrictive environment of varsity sports. Other early adopters were former high school football players seeking an outlet, and still others had little formal athletic experience—let alone any with rugby.
"It was a fun time," says Hurlock, who now lives in Brentwood, Tennessee, and works in market development for a national tool manufacturer. "It was alternative, a little bit of that counterculture thing. Things were so preppy and structured before, and then here's another kind of avant-garde athletic event. It fit for some of us."
Some of that spirit still lives in the club's ethos of inclusivity. All are welcome. If you show up, you practice. If you practice, you play. But the club's enduring presence is also the product of the leaders who gave it more structure in the years after its somewhat freewheeling infancy.
HONORING THE VANDERBILT EXPERIENCE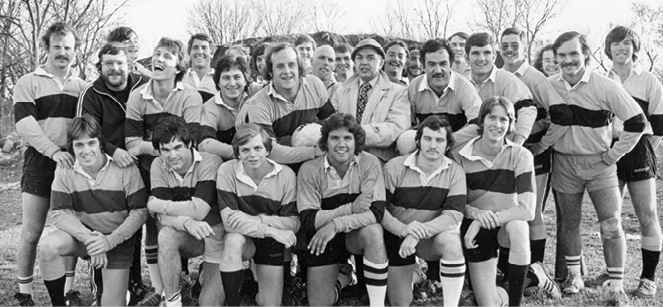 Joe Franklin, MLAS'09, a former rugby player turned high school teacher, took over from Berry as coach around 1974. He was responsible for bringing aboard K.C. Potter, JD'64, dean of residential and judicial affairs, emeritus, as faculty adviser. Potter is a passionate advocate for the club to this day.
"Joe was one of the most successful coaches and teachers I've ever known," Potter recalls, "leading his students to success and serving as big brother, friend and adviser. He was always concerned about his students, could be an understanding disciplinarian, but always a friend."
Franklin coached the team for nearly 25 years, traveling to England for coaching clinics and eventually taking the club on tours of Australia, England, France, New Zealand, Scotland and Wales. The team still split their time at home between both sides of West End Avenue, playing games at Centennial Park and on campus. But as alumni and locals split off into the Nashville Rugby Football Club, the VURFC roster eventually emerged as entirely undergraduate.
"Joe Franklin really changed some lives," says Dr. Lester Porter, a Nashville oncologist who completed his medical residency at Vanderbilt and played with the club's alumni "Old Boys" team. "He really was a father figure to a lot of
the players. He gave them a club of colleagues and discipline and adventure."
Former players launched the Joe Franklin Rugby Fund at Vanderbilt after their mentor passed away in 2010. It was a small endeavor, a way for a handful of ardent alumni to complement the annual funding the club receives through the university. But during the fall of 2019, as the club's 50th anniversary approached, a dedicated group of former players created a bold plan to ask the more than 500 VURFC alumni to raise an additional $1 million for the fund.
"We had to postpone our 'Raise Your Glasses' 50th anniversary celebration in 2020," says Terry Moore, BE'81, a former player whose business consulting firm is in Knoxville, Tennessee. "We, however, did not postpone asking our generous alumni for multiyear commitments, estate gifts and one-time donations. Thanks to their support, we have created a path to hit our $1 million fundraising goal by 2024."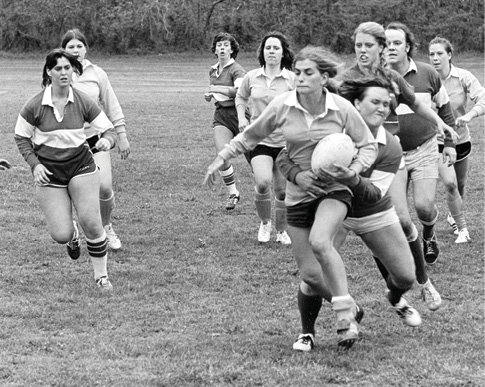 VURFC organizers anticipate that several hundred former players will return for a rescheduled celebration on campus this fall—health guidelines permitting. Among them will be former players from the Vanderbilt University Women's Rugby Football Club, which was first organized in 1978. Although VUWRFC has not been on campus since the early 2000s, women's rugby remains an important part of the sport's story at Vanderbilt.
One person who is sure to attend the celebration this fall is Jim Snell, BS'93. Now in his third decade as VURFC coach, he is one of only three to lead the club. And like Berry and Franklin before him, he has never been paid for the countless hours of coaching and service that he has devoted to the club.
Snell knew rugby existed when he arrived on campus as a freshman, but that was about the extent of his expertise with the sport. He'd come from a small town in South Carolina where grades came easy, and he struggled to adjust to the demands of a bigger academic pond. He found a comfort zone in rugby—not just the physical competition, but also piling in cars each weekend to drive to games and talking with upperclassmen who were interested in what he had to say.
After graduating, he asked Franklin if he could use some help. Then, when Franklin retired in 1999, Snell took on the coaching duties. Some years that meant working all day, taking graduate classes at Tennessee State University in the evening, and then conducting practice before finally crawling into bed.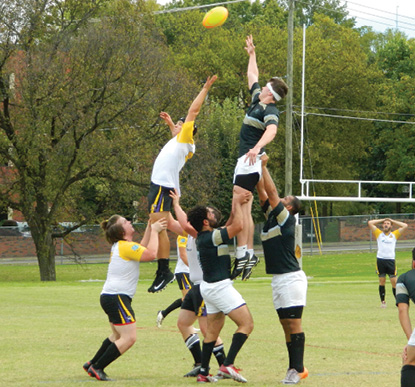 "Rugby was such an important part of my college career," says Snell, now executive director of Volunteer Tennessee, a state agency that encourages volunteerism and community service. "I didn't want others to not be able to have that experience just because there was no one around who was willing to commit the time to make it happen."
VURFC has remained successful on Snell's watch, winning the Southeastern Conference championship in 2011 and reaching the national playoffs multiple times over the past decade in multiple variants of the sport. But victories aren't all that he and the current players are missing as they wait for club sports to resume when the pandemic subsides. Without rugby, some part of home is missing—just as it was for Berry all those years ago.
"We have been blessed to enjoy rugby football at Vanderbilt for more than 50 years," Moore says. "All of us owe a debt of gratitude to not just Dr. Geoffrey Berry, Joe Franklin and Jim Snell and his wife, Angela, but to Vanderbilt Club Sports, VUWRFC, the Nashville Rugby Club and all the fans, friends and volunteers who have made it possible."