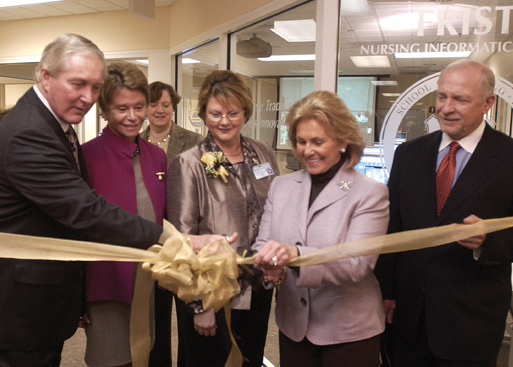 Patricia Gail "Trish" Champion Frist, BA'61, of Nashville, who had a great impact as a philanthropist and business advocate, died Jan. 5.
She moved to the Nashville area as a sixth grader and attended Stokes Elementary School and Hillsboro High School. At Hillsboro she was a cheerleader and class president. At Vanderbilt she majored in English and history and was a cheerleader and president of Pi Beta Phi sorority. After earning her degree, she married Dr. Thomas F. Frist Jr., BA'61 and member of the Vanderbilt Board of Trust from 1984 to 1998, whom she had first met when she was in eighth grade and he was in ninth. Throughout their 60-year marriage, they were partners in many charitable, philanthropic, civic and business interests, including the Frist family creation in 1968 of Hospital Corporation of America, which went on to become the largest hospital chain in the United States and a leader in medical innovation, and of the HCA Foundation in 1982.
Her support made possible a new three-story building at the Vanderbilt School of Nursing in 1998, which was named Patricia Champion Frist Hall, as well as a state-of-the-art nursing informatics center within the building.
"Patricia's support for medical education, especially the School of Nursing, included a transformational gift … for a facility expansion that continues to benefit generations of students," said Dr. Jeff Balser, president and CEO of Vanderbilt University Medical Center and dean of  Vanderbilt University School of Medicine.
She was a driving force behind the creation of Nashville's Frist Art Museum, which opened in 2001, and the founding in 1984 of the United Way's Alexis de Tocqueville Society to connect philanthropic and volunteer leaders. She was the first woman to serve on the board of SunTrust Bank in Atlanta. She also served on the boards of the Community Foundation of Middle Tennessee, SunTrust Bank Nashville and the Frist Foundation. She was on the Nashville Symphony's executive committee and served as chair of the Symphony Ball. She received numerous awards, including the United Way's Women's Initiative Spirit of Giving Award, and was named an honorary alumna of the Vanderbilt School of Nursing in 2009.
She is survived by her husband; daughter Patricia Frist Elcan and son-in-law Charles A. Elcan; son Thomas F. Frist III and daughter-in-law Julie D. Frist; son William R. Frist and daughter-in-law Jennifer Rose Frist, BS'93; nine grandchildren; sister Linda C. Puckett, BA'58, and brother-in-law Walter Puckett III, BA'52, MD'55; and sister Julia Colton and brother-in-law John O. Colton Jr., BA'62.
—STAFF REPORTS