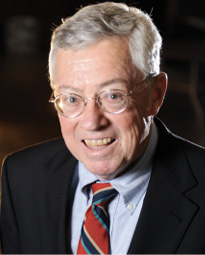 From the wild market volatility at the outset of the coronavirus pandemic to the GameStop share surge and the subsequent trading restrictions, a fluency in financial markets was key to understanding many of the year's biggest headlines. Since 1987, the Financial Markets Research Center at Owen Graduate School of Management has offered opportunities to develop such fluency through unique conferences that bring together financial market industry leaders, regulators and academics to share their ideas and opinions on improving the efficiency and efficacy of markets.
Thomas Peterffy of Interactive Brokers, whose philanthropic support endowed the center in 2003, recently renamed it the Hans Stoll Financial Markets Research Center in memory of its founder. Stoll, a pioneer in the field and longtime director of the center who passed away in 2020, was emeritus professor of finance and former holder of the Anne Marie and Thomas B. Walker Jr. Chair of Finance at Owen.
"Professor Stoll's proficiency, curiosity and outreach to global financial leaders helped further important research and elevate Owen's prestige over many decades," Peterffy says. "I am delighted to honor his commitment and preserve his legacy."
The center's current director is Robert Whaley, Valere Blair Potter Professor of Management. Like Stoll, Whaley is highly respected as a thought leader in the field and draws distinguished guests to Vanderbilt to take part in the center's programming. Whaley is known, in particular, for creating the widely used Chicago Board Options Exchange Volatility Index—the VIX—and often is sought out for insightful commentary on market fluctuation.
"Thomas Peterffy's contributions to financial markets are legendary," Whaley says. "He and Hans had a special working relationship. When I contacted Thomas about renaming the center, his response was, 'Of course.' The Hans Stoll Financial Markets Research Center will continue to place Owen at the forefront of a global dialogue about finance, regulatory practices and investing."
—LILY KANE
For more information, visit www.vanderbiltfmrc.org.