Media Inquiries
Latest Stories
"Everything I've learned, I've learned the hard way," laughs Hassan Sharaff, BE'07, gesturing to, well, everything: the polyethylene greenhouse walls with a soaring aluminum frame, torqued by last year's derecho winds, and tray after tray of arugula, basil, kale and lettuce shoots, drinking in diffuse winter sunlight, tropical humidity and ever-flowing water.
"Water is fascinating. We still understand so little about it," says Sharaff, the owner of HydroHouse Farms, a commercial hydroponics business in Mount Juliet, Tennessee, that supplies leafy greens to many restaurants and businesses in Nashville—including Vanderbilt Campus Dining. He's a man with many interests. As a boy growing up in the United Kingdom, Switzerland and New York, Sharaff loved car engines, airplanes and spaceships. At Vanderbilt, he studied mechanical engineering. Then he headed home to New York to start a career in finance—following in his dad's professional footsteps.
For a decade, Sharaff worked in the finance, nonprofit and hospitality industries, struggling to find a calling. After college, he'd prioritized making money. But as he got older, his values began to shift. "I wanted to make a positive contribution to society," he says. "I believed in kindness and philanthropy, things my parents instilled in me."
A hydroponic farming enterprise ticked all the boxes of what he considered a calling: "Provide a valuable service, work on my feet, make a decent income and be proud of what I'm doing," he says. Ten years after graduation, Sharaff, who'd never sowed a seed before, built a greenhouse with his dad in his parents' backyard in suburban New York. He launched a mini hydroponic operation there to experiment with horticulture while he plotted his agribusiness venture. Location was a problem: He needed to plant himself on fertile ground near a city full of chefs who wanted quality produce, but where real estate prices weren't sky high. New York was a non-starter. Portland, Oregon, didn't feel right.
In early 2016, Sharaff flew to Nashville, his first trip back since college. He found a thriving culinary scene and affordable land east of the city. That September he closed on 17 acres in Mount Juliet, and he launched operations in May 2017. His business has survived hard-won lessons from nature and the marketplace. He shares a few of these here for prospective farmers—or for anyone who dreams of "providing more than you've taken" from the world.
Hassan's (hard-earned) tips for success:
1. Dig into the science.
Before sowing the first crop, Hassan studied root growth, planting mediums (such as perlite and rockwool), nutrients, environment and water. He researched the nutrient film technique hydroponics system, which pumps a nutrient and water solution through grow trays. The rest was trial and error—adjusting temperature, humidity, water solution pH and other inputs—and watching how plants responded. "Get some seeds, choose a medium and dive into it," he advises.
2. Decide what to grow.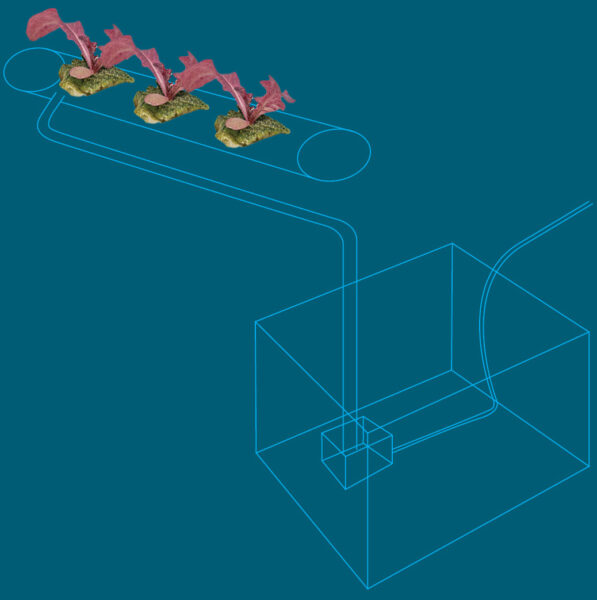 Adapt your crop to the hydroponic system you choose. The NFT system works well for leafy greens but not for tomatoes. Consider the business side: growth speed and shelf life will affect your bottom line. And be sure you're growing produce your market actually wants. "Restaurants buy lots of lettuce," Sharaff says.
3. Think like an engineer.
To keep his operation running, Sharaff had to learn electrical wiring, plumbing, carpentry and mechanics. "If a fan breaks or a pump fails, I've got to be able to fix it," he says. His engineering background prepared him to work hands-on and to break problems into smaller components and attack them one by one "instead of feeling overwhelmed," he says.
4. Build a team.
Be self-sustaining, but don't be afraid to ask for help. Sharaff learned quickly that he couldn't do everything on his own. He now has a go-to "MacGyver" buddy, who can fix what he can't, and a team of collaborators with expertise in everything from construction to branding. "Work hard, appreciate talent and be grateful," Sharaff says. "The best people will gravitate to you."
TEXT BY KIM GREEN