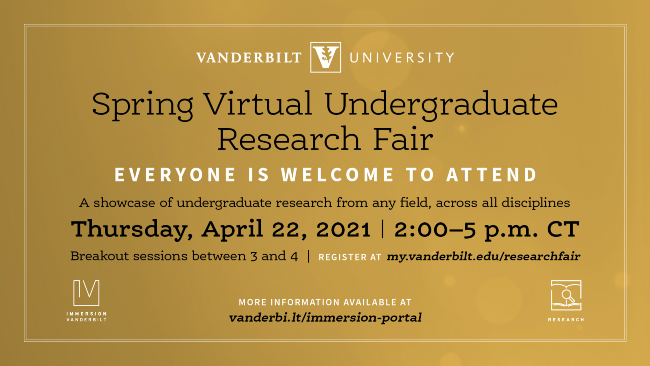 The first annual spring semester Vanderbilt Undergraduate Research Fair is scheduled to take place on Thursday, April 22, from 2 to 5 p.m. With the inception of Immersion Vanderbilt, a spring version of the fair provides students with an additional opportunity to showcase their projects. This event will be entirely virtual.
The fair will feature poster presentations of student research projects that are representative of a variety of fields and disciplines. The event will begin with opening remarks from Luis Leyva, assistant professor of mathematics education and director of the PRISM (Power, Resistance and Identity in STEM Education) Research Lab. Student researchers will present their work from 2:20 to 3 p.m. and from 4 to 4:40 p.m. In addition, participatns are welcome to attend the student organization panel breakout session from 3 to 4 p.m.
Students, faculty, staff and others who are interested in attending should register on the Vanderbilt Undergraduate Research Fair webpage to receive important event information, such as the schedule and links to the presentations and breakout sessions.
All students, faculty and staff are encouraged to attend the research fair.  The event is free and open to the public.
The Undergraduate Research Fair is sponsored by the Vanderbilt Undergraduate Summer Research Program, the Littlejohn Family, the Goldberg Family, the Office of the Provost, and the Office of Immersion Resources. It is made possible through the efforts and dedication of our faculty, staff and students.
Any questions about the Vanderbilt Undergraduate Research Fair should be directed to the Office of Immersion Resources.