Vanderbilt students are sharing testimonials regarding their experiences with Vanderbilt's Center for Student Wellbeing.
Academic and well-being coaching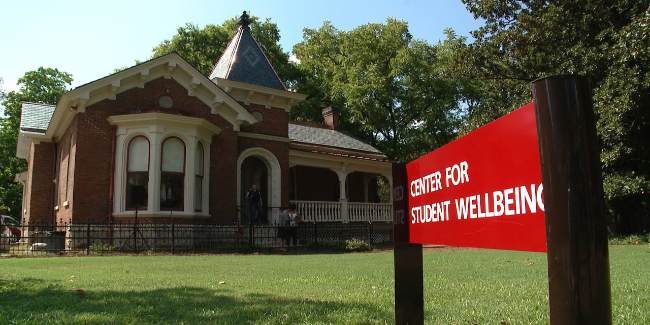 The Center for Student Wellbeing offers all undergraduate, graduate and professional students individual coaching sessions with a staff member to discuss a variety of topics. Through academic coaching, students can polish study skills and learn to manage their time in order to apply those skills effectively. Academic coaching can be beneficial not only to students who are experiencing academic difficulties, but also to anyone who wishes to enhance their academic effectiveness.
"Academic coaching is like academic therapy—sometimes it is cathartic to be able to vent frustrations about work or professors, and other times you may need someone to help you plan your week so that you can set goals and accomplish them in a feasible manner. Academic coaching has helped me combat my anxieties and manage a work-life balance as well as provided me with the skills to do so on my own," an undergraduate student in the Class of 2024 said.
"I feel very fortunate to have had the chance to work with a coach at the CSW this past year. Coaching has helped me slow down and focus on what I want to change and accomplish and then to break it down further into manageable steps I need to do to achieve my goals," said a professional school student in the Class of 2021. "Coaching through CSW, specifically, is so beneficial because it draws from the greater Vandy community. Hearing that I am not the only one who is experiencing certain challenges and learning possible ways forward from how other students have found success has normalized and encouraged me through some difficult times."
In addition to academic coaching, the center supports students with managing their stress and anxiety due to academic issues.
"The coaching resources that the Center for Student Wellbeing offers have greatly benefitted my mental health and academic success over the past four years. I came to the CSW with fears about acclimating to college, managing stress and attending to my own physical and emotional well-being. I will graduate having gained a confidante and the tools to manage some of life's chaos," said a sociology major and gender and sexuality studies minor in the Class of 2021.
"Participating in well-being coaching at the Center for Student Wellbeing has guided me through any and all challenges I have faced while at Vanderbilt," said a graduate student in child development and public policy, a member of the Class of 2023. "Having constant support and access to resources has helped me learn to cope better and to place emphasis on taking care of my physical, mental and emotional well-being."
ADHD workshops
Attention deficit hyperactivity disorder is a neurodevelopmental condition commonly associated with children; however, a number of students come to this diagnosis when faced with the novel challenges associated with college.
Common symptoms of ADHD include having difficulty initiating and sustaining effort on tasks, being easily distracted and other executive-function challenges. The Center for Student Wellbeing's ADHD workshops can help.
"Being diagnosed with ADHD at 20 was very overwhelming—everything made sense and was completely new all at the same time," said a human and organizational development, Spanish and business major in the Class of 2022. "Luckily, attending the ADHD workshops has helped me to gradually feel less overwhelmed.
"Through the workshops, I have learned so much more about what ADHD entails and helpful coping skills for living in a neurotypical world," the student continued. "However, what I love most is finally having a group of people to talk and vent to that completely understands and relate to the way I experience the world."
Vanderbilt Recovery Support
The Vanderbilt Recovery Support Collegiate Recovery Program provides caring and encouraging support services to assist students who are in recovery from substance use issues and who are working toward success in their academic, social, personal and professional lives.
"VRS has been an essential part of my recovery from addiction since returning to school last January," said a student and participant of the program. "I've been able to meet like-minded people with similar problems, as well as similar goals, which has been helpful. But the most important factor is that these people have become some of my closest friends."
Learn more about Vanderbilt's recovery support services.
For more information on the Center for Student Wellbeing's services and programming, visit the CSW website.