When Mason Clark was in middle school, his beloved grandmother suffered a serious heart attack. She survived, thanks to the help of the local hospital, and the experience led Clark to his life's purpose.
Partly out of gratitude and partly out of curiosity, he began volunteering at the hospital and was drawn in by the possibility of helping others like his grandmother. 
"I fell in love with the hospital and with this idea that you can use science and critical thinking to alleviate people's suffering," he said.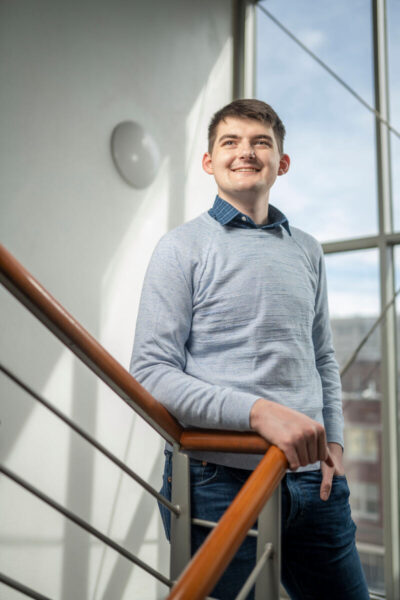 The Owensboro, Kentucky, native entered Vanderbilt planning to become a physician. He got involved in research, he said, to "check a box" for medical school admissions. But by the end of his first semester in the lab of Assistant Professor of Chemistry Lars Plate, Clark was rethinking his plans. He realized that research also played a key role in alleviating patients' suffering and began to consider how he might bridge research and medicine in his post-Vanderbilt life. A molecular and cellular biology major, he'll begin a fully funded, eight-year M.D./Ph.D. program at the University of Illinois at Chicago this summer.  
"If we understand things at the really small level, then slowly we're going to be able to understand things more at a human level, and we're going to be able to use that to improve how patients are treated," he said. "Now what I really want to do with my career is to be a liaison between the lab bench and the bedside." 
Front lines of COVID-19
Clark became even more convinced of his path when the COVID-19 pandemic hit. He had continued to volunteer at the Owensboro hospital throughout high school, ultimately qualifying as an emergency room technician and filling that role during breaks from his studies at Vanderbilt. When he returned to Owensboro in March 2020, he went back to the hospital to help fight the new and devastating enemy that was overwhelming the nation's health care system.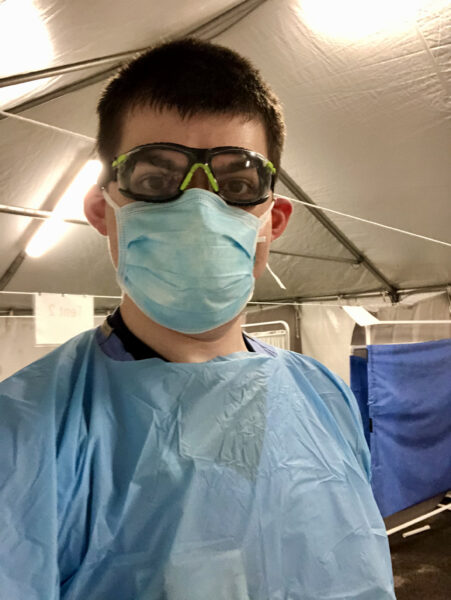 Though Kentucky's pandemic response succeeded in dramatically reducing cases, the Owensboro emergency room still admitted multiple COVID patients every night. One of his hardest tasks, Clark said, was telling suffering patients (like a teenager who'd just been in a serious car accident) that their loved ones couldn't see them because the hospital was unsafe for visitors. 
His schedule was grueling, but the experience cemented his plans to bridge the bedside and the bench as a physician-researcher. He attended Vanderbilt classes online during the day, worked in the hospital overnight, and squeezed in sleep and studying for the Medical College Admission Test whenever he could. He had been interested in infectious diseases since his first days in Plate's lab, and now he saw firsthand how antiviral research was crucial to saving patients' lives. The experience inspired him to aim for a career in microbiology or immunology, in which he can help make the kinds of advances that are now turning the tide on the pandemic.  
Given his journey, perhaps it's not surprising that Clark's favorite memories of Vanderbilt are of the College of Arts and Science faculty who mentored him, the older students who encouraged him, and the peers who inspired him. 
"Everyone here has so much passion. To be able to be in a place where you can look around and see so many diverse things that people want to accomplish has been incredible," he said. "It has immensely widened my scope of what I think about the world and what I think about what I want to do."
This profile is part of a series of stories and videos highlighting undergraduate and graduate students in the Class of 2021.