By Miquéla Thornton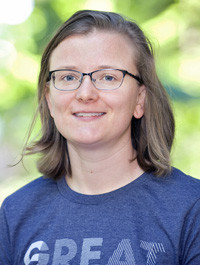 A new Nanomaker Immersion course coming to Vanderbilt aims to train the next generation of nanotechnology entrepreneurs in a facility rarely utilized by undergraduates. The course is made possible by a $30,000 VentureWell Faculty Grant awarded to Alice D. Leach, research assistant professor of materials science and the immersion leader at the Vanderbilt Institute of Nanoscale Science and Engineering. The course will engage undergraduate students in conceptual and experiential learning as they fabricate and commercialize nanotechnology products.
Nanotechnology—the use of matter on an atomic, molecular and even tinier, supramolecular scale—is a field that's experiencing dramatic growth. It is used across STEM disciplines from chemistry to biology and physics, to materials science and engineering because of its variety of applications. With every new technology, there is a push to make it smaller, Leach explains. That demand requires micro-nanofabrication.
Leach's course will introduce undergraduates to nanotech fabrication through hands-on experience, setting them apart as job candidates for their future endeavors. "It's fair to say these opportunities rarely present themselves at the undergraduate level," Leach said. "Most nanomakers have a graduate degree, which is not required for all roles."
Within VINSE, a Vanderbilt Trans-Institutional Program, the course will prioritize trans-institutional collaboration: During a commercialization unit, the Wond'ry, Vanderbilt's Innovation Center and the Center for Technology Transfer and Commercialization will share case studies on the early steps of commercialization, including patents and pitching to partners. At the end of the course, students will pitch their physical device to Wond'ry, VINSE, CTTC and School of Engineering staff and faculty including Yiorgos Kostoulas, professor of the practice of engineering management and a co-principal investigator on the grant.
The course will take place in a VINSE cleanroom, a dust- and contaminant-free facility used for industrial production or scientific research. To create devices at a nano size, dust, dirt and floating particles of skin or hair need to be completely eradicated. A cleanroom filters the air so that everything bigger than 500 nanometers—1,000 times smaller than the width of human hair—is removed. "Should a single particle of dust fall on a cellphone processor, it breaks 800 things," Leach said.
When working in cleanrooms, researchers are enclosed in suits designed to protect devices. While there are many universities that have cleanrooms, very few have accomplished the feat of performing coursework in them. This will happen when Leach begins her course in the fall of 2022. Leach hopes it can be a framework for other courses that touch on commercialization across higher education.
VentureWell Faculty Grants were established to fund and support faculty with innovative ideas that enable students to develop novel, STEM-based inventions and gain the necessary entrepreneurial skills to bring these ideas to market. One element VentureWell particularly liked about Leach's application was her goal of establishing a diverse class. Leach was one of 13 grant recipients chosen through a competitive national review process. The grant is intended to support women technologists. This year 85 percent of VentureWell's Faculty Grants went to women, and 38 percent went to minority faculty.
Leach was selected as the institutional nominee for the VentureWell Faculty Grant, which was announced as a Limited Submission Opportunity (LSO). LSOs are external funding opportunities where sponsors limit the number or types of applications Vanderbilt can submit. Research Development and Support, within the Office of the Vice Provost for Research, manages the LSO process by proactively announcing funding opportunities, guiding researchers though a simplified application process, coordinating reviews from experts, and sharing constructive feedback on applications. Learn more about Limited Submission Opportunities and subscribe to the LSO listserv.