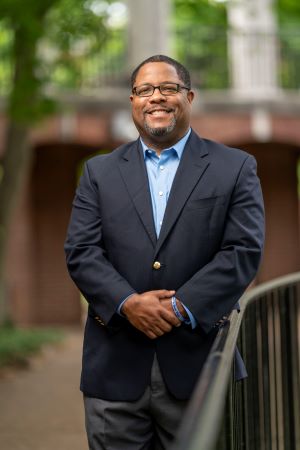 Vanderbilt University Cornelius Vanderbilt Distinguished Professor of Education H. Richard Milner IV has been voted president-elect of the American Educational Research Association, the largest interdisciplinary research association devoted to the scientific study of education and learning in the world. Milner's presidency will begin at the conclusion of the association's 2022 annual meeting.
"As educational researchers, we build knowledge that informs practice and policy," said Milner. "During these extraordinarily challenging times inside and outside of education where people are living through a pandemic, our collective aims as researchers have the potential to deliberately transform systems, structures, and infrastructures to improve the human condition," he shared. "Indeed, this is an incredible opportunity to lead the world's largest educational research organization that I accept with deep humility."
"We are absolutely thrilled that AERA will be led by one of our own," said Camilla P. Benbow, Patricia and Rodes Hart Dean of Education and Human Development at Vanderbilt Peabody College. "Professor Milner's scholarship consistently addresses some of the most pressing questions in education and society. I am confident the organization will benefit from his innovative thinking as well as his ethical commitments."
As COVID-19 has impacted educational opportunities for students across the United States, Milner is eager to facilitate research-backed dialogue and to support programs of research that address educational inequity.
"As we face unprecedented educational demands, we have a chance to examine root causes of educational inequities and to build programs of research that systematically study what is working in education," Milner said. "Many young people, educators, parents, families and communities are relying on us to work with them as we heal and reimagine what education can and should be locally and globally," he stated. "I am ready and committed to doing my part."
Milner is a researcher, scholar and leader of urban education and teacher education. He examines the social context of classrooms and schools and studies how teacher discourse, particularly about race, influences student learning, identity and development. He also serves as the founding director of the Initiative for Race and Justice at Peabody. He was elected to the National Academy of Education in March 2021.
His work and influence have been consistent and persistent. For instance, he was the founding inaugural editor of the Race and Education Book Series of the Harvard Education Press. Attempting to bridge research and theory with practice, Milner inaugurated a series column on equity in the widely read practitioner journal, Educational Leadership.
Milner has developed key tools for addressing racial opportunity gaps in education, including an Opportunity Gap Framework, a Researcher Positionality Framework, and the Teachers' Race Talk Survey. These tools and frameworks have been adopted and adapted in P-12 schools as well as in higher education.
Milner has written more than 100 journal articles and book chapters and authored three books. His research in urban schools and teacher education, and his book Start Where You Are, But Don't Stay There: Understanding Diversity, Opportunity Gaps and Teaching in Today's Classrooms, Second Edition (Harvard Education Press, 2020), have influenced designs, practices and policies in education. School districts across the United States and beyond draw on his recommendations to support students of color and those who live below the poverty line.
Milner began his career at Vanderbilt in 2001. In 2008, Milner became the first Black person in the history of Peabody College to earn tenure. He spent five years on faculty at the University of Pittsburgh before returning to Vanderbilt in 2018. He holds a primary appointment in the Department of Teaching and Learning and secondary appointments in the Department of Leadership, Policy and Organizations and the Department of Sociology in Vanderbilt's College of Arts and Science.