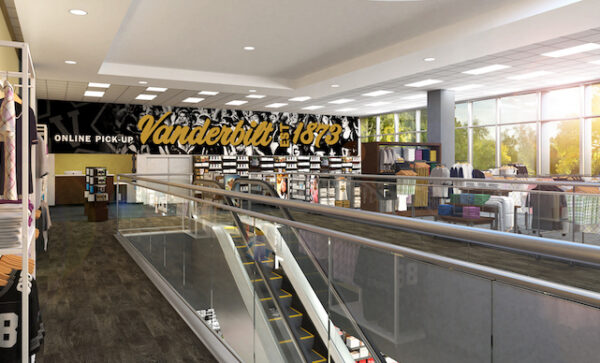 Vanderbilt University has entered into an agreement with Follett Higher Education to assume operation of the university's bookstore at 25th and West End avenues. This wraps up a yearlong strategic planning process that included a diverse cross-section of campus stakeholders, including students, staff, faculty, alumni, fans and the broader Vanderbilt community. The committee overwhelmingly selected Follett for its affordable textbook solutions, its technology integrations to support academics, its forward-thinking retail experience and its plan to engage with the Vanderbilt and Nashville communities. 
"With a convenient storefront situated at the front door of Vanderbilt's new residential colleges, an updated selection of Commodore fan gear and a refreshed in-store customer experience, the new Vanderbilt University Bookstore will bring a fresh look to the campus store—and provide a welcoming experience for all guests," said David ter Kuile, executive director for Business Services. He added, "In addition to the bookstore's deep connection with academic and residential life at Vanderbilt, this reset of our campus store coincides with a re-energized spirit a round our Athletics program. We're proud to support Commodore Nation and to provide the highest quality experience for our fans and visitors." 
In addition to updated retail fixtures, new product lines and flexible seating areas, the current café will be repurposed to maximize flexible space for visiting authors and book signing events. Comfortable seating areas will be added to create an inviting environment for students, faculty and visitors to relax and recharge. After a brief closure for renovation May 22–31, the store will reopen for full service under the "Vanderbilt Bookstore" brand on June 1; it will continue a phased renovation while remaining open to bookstore patrons.
For updates related to the bookstore transition and to receive a coupon for the new Vanderbilt Bookstore, visit NewVanderbiltBookstore.com.  
Follett Corp. is the world's largest single source of educational materials, digital content, ecommerce and multimedia for libraries, schools and institutions. Headquartered in Westchester, Illinois, Follett provides education technology, services and physical and digital content to millions of students at 70,000 schools, and more than 2,700 physical locations and campus ecommerce platforms in North America. 
About Follett Higher Education
Follett Higher Education is a prominent and historic omnichannel retailer and educational service provider that operates over 1,100 campus store locations and 1,250 ecommerce campus store websites. Currently ranked #82 on the Internet Retailer 500, Follett provides emblematic and non-emblematic general merchandise and course materials within the higher education marketplace.
Follett Higher Education serves both two-year and four-year colleges through long-term contracts with approximately 800 campus partners. Follett Higher Education manages an institution's online and in-store channels to assort and sell a wide array of merchandise and services that support students, faculty, campus administration, alumni, and the surrounding community. We enable faculty to teach, students to learn, institutions to run and fans to celebrate.