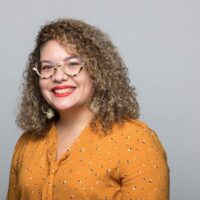 Vanderbilt Divinity School has announced the hiring of Yara González-Justiniano, assistant professor of religion, psychology and culture. González-Justiniano, who will focus on Latinx studies, brings a wealth of experience in theological and cultural study and nonprofit program leadership.
"We are excited to have Professor González-Justiniano join our faculty," said Emilie Townes, dean of the Divinity School and distinguished professor of womanist ethics and society. "She brings wonderful energy and passion in all she does, and we look forward to working with her to grow a strong Latinx program that will make a positive impact on our students, faculty and the church."
González-Justiniano has served as the national director of the Raíces Latinas Leadership Institute, where she managed leadership development programming and served as an academic adviser to participants. She also served as assistant director and senior program coordinator in the Office of Contextual Education and Community Partnerships at Boston University School of Theology. Most recently, González-Justiniano was the visiting assistant professor in practical theology and community engagement at Garrett-Evangelical Theological Seminary. She received a bachelor of arts at the University of Puerto Rico, and a master's in divinity and doctorate in theology at Boston University School of Theology.
Fellow Divinity School faculty believe the appointment of González-Justiniano will provide an important perspective on the intersection of culture and theology and offer enriching learning opportunities for students.
"I could not be more excited to have Dr. González-Justiniano join Vanderbilt Divinity School and the Graduate Department of Religion," said Phillis Isabella Sheppard, E. Rhodes and Leona B. Carpenter Associate Professor of Religion, Psychology, and Culture. "Professor González-Justiniano is a practical theologian who brings a contextual and decolonial approach to her research and pedagogical commitments and, in so doing, advances the aims of the discipline and Vanderbilt."
"The appointment of Professor González-Justiniano signals a new day for Vanderbilt Divinity School," said John McClure, Charles G. Finney Professor of Homiletics. "Her research into the deep and abiding hope of many in the face of Puerto Rico's political and economic crisis, her interest in scholar-activism in pursuit of justice, and her ability to connect deeply with our Latinx students as friend and mentor make her a wonderful addition to our faculty."