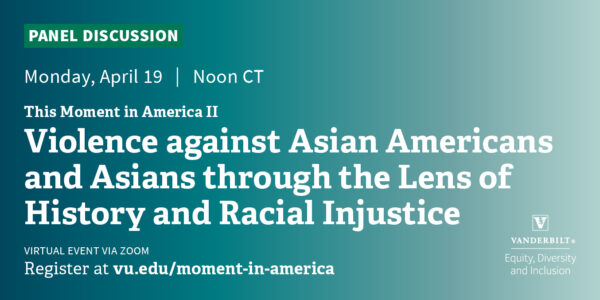 The Office for Equity, Diversity and Inclusion will host a panel of Vanderbilt faculty, staff and students to share their experiences as members of the Asian and Asian American communities during the second "This Moment in America" discussion.  
The virtual event is scheduled for noon on Monday, April 19, and is open to the Vanderbilt community, including all students, staff, faculty members, postdoctoral fellows and alumni. Registration is required. 
The panel will explore the history of the Asian and Asian American experience in the U.S. and the impact that the rise of violence, xenophobia and anti-Asian sentiment since the beginning of the pandemic have had on these communities. 
The discussion will be moderated by Dr. André L. Churchwell, vice chancellor for equity, diversity and inclusion and chief diversity officer for both Vanderbilt University and Vanderbilt University Medical Center. 
"Recognizing how recent violent attacks on Asian and Asian American communities, including the horrific shootings in Atlanta, have deeply affected members of our Vanderbilt community, we are called to address this moment," Churchwell said. "This panel will be one of many steps in better understanding where we are and where we can go from here."  
Panelists will include: 
Ben Tran

,  

a

ssociate

professor of Asian Studies and English

 

Cayla Leung,  

doctoral intern in psychology at the University Counseling Center

 

Iris Kim,

undergraduate student and founder of the 

Asian American Studies Initiative (VAASI)

Thao Le,

M.D./Ph.D. student in molecular physiology and biophysics, 2019-20 student life liaison of the Graduate Student Council

 

Abhi

Natha

n

,

undergraduate student and president of the South Asian Cultural Exchange

 
Audience members may submit questions for the panelists upon registration. Submit questions for the panelists.