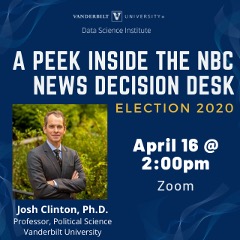 How do television networks predict election outcomes? The virtual event "A Peek Inside the NBC Decision Desk: Election 2020" scheduled for Friday, April 16, at 2 p.m. CT will provide an overview. Registration is required.
Josh Clinton, Abby and Jon Winkelried Chair and professor of political science, will discuss the data networks use to predict elections and the ways that information is used to determine which candidates will emerge victorious. The discussion is hosted by the Data Science Institute.
While the precise details of the data models are confidential trade secrets, participants will learn about some of the challenges involved in projecting races brought about by the decentralized administration of elections across the United States.
The Vanderbilt Data Science Institute accelerates data-driven research, promotes collaboration and trains future leaders. The institute brings together experts in data science methodologies and leaders in all academic disciplines to spark discoveries and to study the impact of big data on society. The institute is educating students in computational and statistical data science techniques to become future leaders in industry, government, academia and the nonprofit sector. This is the third and final discussion in the spring speaker series.