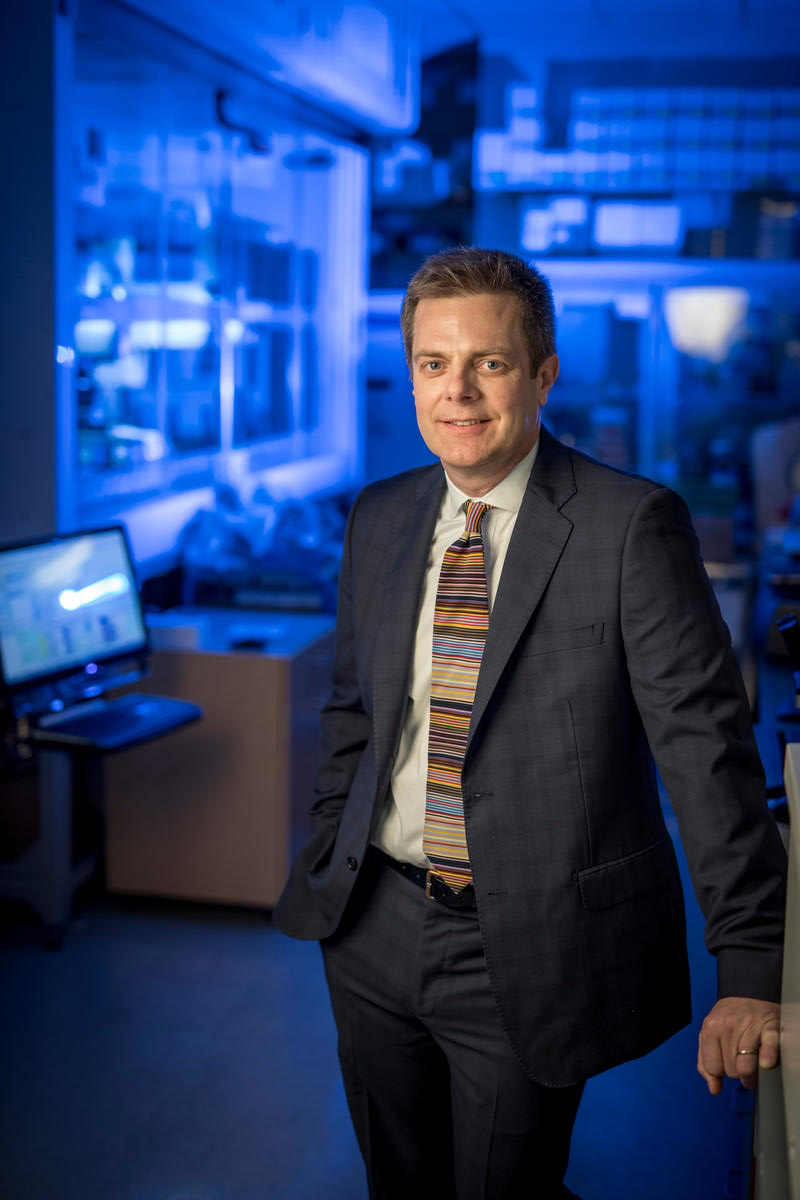 Dr. James E. Crowe Jr., a physician-scientist on the front lines of global research to eliminate human susceptibility to COVID-19 and other illnesses, is Vanderbilt University's winner of the 2021 Southeastern Conference Faculty Achievement Award.
Crowe, who holds the Ann Scott Carell Chair, is professor of pediatrics, pathology, microbiology and immunology and director of the Vanderbilt Vaccine Center.
The awards, now in their 10th year, recognize faculty members from each of the 14 Southeastern Conference universities who have excelled in teaching—particularly at the undergraduate level—and research.
"Dr. Crowe's renowned research and commitment to excellence have helped propel Vanderbilt's role on the world stage in the development of treatments against COVID-19 and other devastating viruses," Chancellor Daniel Diermeier said. "His work continues to embody the pinnacle of higher education's mission to improve the human condition, and we could not be more delighted to provide this recognition."
Crowe's pioneering work to understand how the human body responds to infection began with his treatment of infectious diseases as a pediatrician in sub-Saharan Africa. Since his completion of infectious diseases fellowship training at Vanderbilt in 1996, Crowe has run an independent laboratory on campus.
"Pandemic prevention, one of the most crucial scientific endeavors of our time, owes its current promise to decades of pioneering work by Dr. Crowe, one of the world's leading experts on the molecular basis for human immunity to viruses, including COVID-19," said Provost and Vice Chancellor for Academic Affairs Susan R. Wente. "No other immunologist working today has had such broad and lasting social impact."
Crowe has reported isolation of neutralizing human antibodies not only for SARS-CoV-2, but also for Ebola, HIV, Marburg, dengue, Zika, West Nile, norovirus and more.
He is a prolific scholar who has consistently published highly cited papers in leading scientific journals, including Cell, Science and in major medical journals such as NEJM and JAMA. He has contributed chapters on immunology and vaccines for most major textbooks in pediatrics and other disciplines, and he developed and edited the 2015 book Antibodies for Infectious Diseases, the definitive textbook in that field.
"Dr. Crowe's vision and desire to help others has driven him to achieve remarkable advancements in the battle against many of the deadly infectious diseases plaguing mankind today. The increasing impact of his research is an inspiration to current and future generations of leaders in science and medicine. I want to congratulate Jim on this honor," said Dr. Jeff Balser, president and CEO of Vanderbilt University Medical Center and dean of the School of Medicine.
Crowe has received some of the highest awards in medicine and science, including the E. Mead Johnson Award for excellence in pediatric research and the Outstanding Investigator Award from the American Federation for Medical Research, among many other honors.
The SEC Faculty Achievement Award winner for each of the 14 institutions receives a $5,000 honorarium. These awards are part of SECU, the academic initiative of the Southeastern Conference.