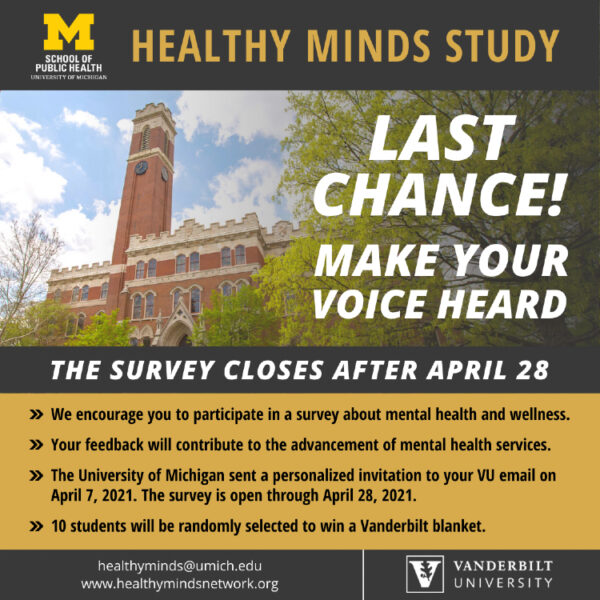 As part of Vanderbilt's continued commitment to enhance students' mental health and well-being, all undergraduate, graduate and professional students are again invited to participate in the Healthy Minds Study, a web-based survey designed to assess students' mental health status, health behaviors and use of health services. Vanderbilt students previously were invited to participate in the study in 2016.
Through a partnership with Vanderbilt Student Government's Student Health and Wellness Committee, specific questions have been designed to assess the unique needs of the Vanderbilt student population.
On Wednesday, April 7, students will receive an email from healthyminds-Vanderbilt@umich.edu that includes a link to take the online survey. The survey will remain open for three weeks, closing on Wednesday, April 28.
A working group comprised of faculty, staff and students will review and analyze the survey results to make recommendations for how the university can continue to improve student mental health support services. Students are encouraged to complete the survey to provide valuable feedback. Participating students also will be entered into a random drawing for one of 10 Vanderbilt blankets.
Questions about Vanderbilt's participation in the study should be directed to pie-surveys@vanderbilt.edu. Students with questions regarding the nature of the study are encouraged to contact the Healthy Minds Study team at healthyminds@umich.edu.