This June,
Anighya
Crocker was supposed to make his conducting
debut at Carnegie Hall, the famed music venue in New York City
that has hosted some of the world's finest artists, from Pyotr Ilyich Tchaikovsky and George Gershwin to Billie Holiday and The Beatles. The COVID-19 pandemic, however, disrupted those plans, forcing postponements and cancellations of live events across the nation.
Yet the fact that Crocker was invited to perform at a place so steeped in music and history—two of his lifelong passions—was rewarding in itself.  
"I've always loved history. I've always loved the lore," said the Springfield, Tennessee, native. "And I always loved music. I felt like I was called by God to do both."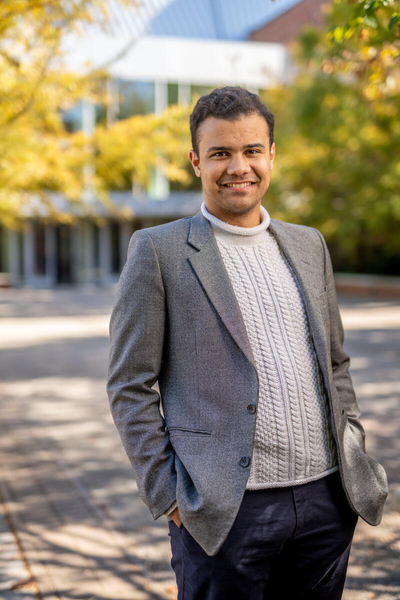 At Vanderbilt, Crocker found the freedom to pursue all of his passions. A Myra Jackson Blair Honors Scholar in the Blair Academy program during high school, Crocker went on to undergraduate studies at Vanderbilt, double-majoring in voice performance and law, history and society.     
"Vanderbilt really fosters academic exploration," he said. "That's one of my favorite things about this institution. When I came here and started my music major, I couldn't find a good reason not to try to find a major in the history department. When I realized that it was almost encouraged to double major, it was a no-brainer.   
"Being a performance major is very time-consuming," he added. "So of course it was difficult when I was trying to write a capstone paper and prepare for the opera. But my professors on both sides of campus have been extremely understanding, and the opportunities I've received in both facets of campus have been extremely rewarding—being able to have great professionals and great performance opportunities at Blair and then great lecturers on the main campus, with great colleagues in both places."   
Crocker has found considerable success in his musical career while at Blair. Most recently, he secured the title role in Vanderbilt Opera Theatre's Spring 2021 production of Benjamin Britten's Albert Herring. He was a finalist at the Kurt Weill Foundation's prestigious Lotte Lenya Competition in 2020. (No winners were selected due to COVID-19.) In 2019, he was named assistant director of the Vanderbilt Chorale. He also has been the music director of Ebenezer Baptist Church in Springfield since 2016.    
Law and politics
However, for all those accolades and experiences, Crocker is looking toward law school and politics—maybe even including a run for governor of Tennessee—as he considers the future. Running for office has long been an aspiration, in line with his desire to give back to the people of the state.  
"I always joked and said, fortunately, I haven't had to choose between history and music," he explained. "I think I've reached the point now in my life where I have to choose. So I'm choosing law school. The hope is to live a life of service. I think that's what being a good lawyer is about, right?"   
But don't worry, music lovers. He's not leaving music behind entirely. Indeed, he credits his Vanderbilt music education with making him a better future lawyer.  
"If you want to be a good musician, you have to be talented in a lot of different things," Crocker said. "It's not enough just to be a good singer. You should be a good musician. If you can play piano, you should play piano. If you can read scores, that's even better. If you can conduct, that's even better. And all those things come together to make you a good colleague. Being a good colleague is the most important part of being a musician. Having good relationships with people—I think that is the most crucial part of a music education—learning how to work with other people. And, of course, in the field of politics and law, that's absolutely essential."  
This profile is part of a series of stories and videos highlighting undergraduate and graduate students in the Class of 2021.