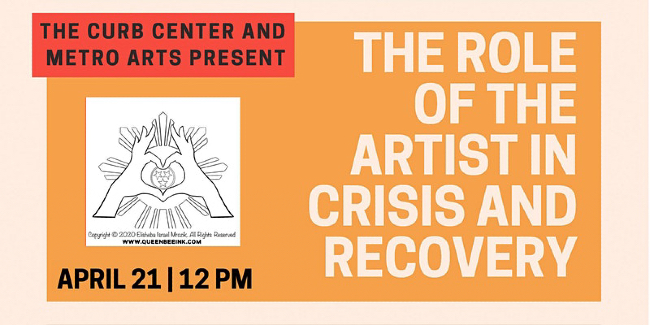 By Jenna Somers
During the spring 2020 semester—before the COVID-19 pandemic began—Curb Public Scholar Emily Habeck, who is pursuing a master's degree in education in community development and action and a master's in theological studies, conceived of a research project for an ethnography class to understand how artists in Nashville serve the community during crisis. At the time, the crisis was hypothetical for Nashville, but by March, a devasting tornado and the start of the pandemic turned the hypothetical into reality.
By summer of that year, Habeck began working with Metro Arts Thrive, but because of the limitations of virtual fieldwork, her project evolved into an evaluation of the Thrive funding program. She interviewed artists who were awarded funding in the April 2020 Thrive cycle, becoming interested in their perspectives on this period of crisis for Nashville, how they saw their work addressing the needs of their community, and what was important to them.
Currently, Habeck is exploring ways to make these artists' voices accessible to a public audience, particularly as Nashville transitions toward recovery. She believes creatives, especially Nashville creatives, have unique skill sets to bring the community together to co-create a post-pandemic new beginning.
"The artists I spoke to are activists, motivators, curators, community builders, parents, connectors, teachers, mentors as well as professional artists, and this web of identities is important to their work, especially now that all of those different skill sets and identities are being used in community building, making meaning and creating spaces to talk about what's real," Habeck said.
On April 21, the Curb Center for Art, Enterprise and Public Policy and Metro Arts Thrive will present "The Role of the Artist in Crisis and Recovery," a roundtable discussion with three local artists funded by Metro Arts Thrive and moderated by Habeck.
The featured artists include:
Elisheba Israel Mrozik, a visual artist who works across mediums, including tattoo, murals, public art and painting. She is a founding member of the Jefferson Street Art Crawl. Her Thrive project was a coloring book, Nashville Strong, featuring her illustrated scenes of Nashville.
Pam Marlene Taylor, fiber artist and curator, currently in graduate school studying clinical mental health counseling and thanatology. Her Thrive project was called Stay Home Gallery, an online gallery featuring work by women and non-binary artists around the world creating during the pandemic. It became a brick-and-mortar contemporary art gallery and artist residency for women and non-binary artists and their families for which Taylor is now the gallery and residency director.
Taria Person, a Nashville native and alumnus of the University of Tennessee in Knoxville, where they received dual bachelor of art degrees in English with a focus on creative writing and poetry and in interdisciplinary studies with a focus on Africana studies. Person is the author of a book of poetry titled Rainbow Elephant and was commissioned by the Emily Hall Tremaine Foundation to write their second book, At the Summit. Person won an Artistic Professional Development grant from Alternate ROOTS to produce their LGBTQ stage play, Hangers, as well as Thrive funding from Metro Arts Nashville to produce their hip-hop folktale, Storm.
Anyone interested in attending the April 21 discussion may register through Eventbrite. Habeck's discussion with the artists will address the pandemic's impact on their artistry, their roles as artists during the recovery, and the needs of creatives to thrive during this difficult time in history, particularly for the arts.
"The Nashville creative community is welcoming, generous and, probably because of those things, talented. There is a strong emphasis on mentorship." Habeck said. "I hope those who attend on April 21st can see artists as people of resiliency—those who make a lot out of a little. As storytellers and some of the most visionary among us, they've always imagined new realities on blank pages, stages and empty canvases, and now I think it's up to artists and arts organizations to reimagine themselves, too. Even though this is a challenging time, I want the attendees to leave with a sense of hope that this can also be a time for regeneration and reimaging a more just and equitable arts scene.
"I can't tell you the number of times I've heard something to the effect of 'Shakespeare wrote King Lear during the plague! What are you doing with your time? What are you creating?'" Habeck added. "I hope those who attend the event understand that recovery is not necessarily about being prolific or creating a product. Success can be about coming together with the community and engaging in a process, and I hope that attendees feel that they have engaged with a process by joining us and that they are a part of something important by showing up."