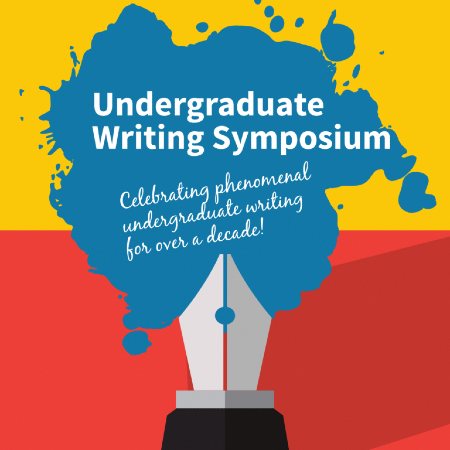 Each year the Writing Studio's annual Undergraduate Writing Symposium creates a space to celebrate Vanderbilt undergraduates' achievements as writers and scholars while spotlighting the deep connections between writing, learning and discovery within the undergraduate experience.
This April, the Undergraduate Writing Symposium will be held as two separate events, each entirely over Zoom and each with its own distinct focus.
The Undergraduate Writing Symposium: Creative Writing Showcase on Friday, April 9, from 3 to 6 p.m. CT will feature undergraduate authors from across the university as they share, reflect on and discuss their poetry, fiction, nonfiction and digital stories.
Prior to the event, an online gallery of the featured authors' creative writing, selected through a review process that began in February, will be available for registrants to explore beginning Monday, April 5.
The Undergraduate Writing Symposium: Academic Writing Showcase will take place on Thursday, April 15, from 4 to 7 p.m. CT. The event's celebration of the power and potential of undergraduate scholarly writing will kick off with keynote speaker Anne Ellen Geller. Geller is professor of English and director of Writing Across Communities at St. John's University, as well as one of three co-researchers for The Meaningful Writing Project and co-author of The Meaningful Writing Project: Learning, Teaching, and Writing in Higher Education (Utah State University Press, 2016) and Teaching Meaningful Writing (under contract with West Virginia University Press).
Following the keynote, the Academic Writing Showcase will feature student author discussions. A selection of first-year authors will share and discuss essays composed during their first semester at Vanderbilt and selected for inclusion in volume three of Scaffold: A Showcase of Vanderbilt First-Year Writing, which will be available online prior to the event. A second group of student authors will share and reflect on their honors theses or other advanced research projects and what those immersive writing experiences have taught them.
Attendees interested in either or both events can register here.
More information, including the schedule of presenters for each event, can be found on the 2021 Undergraduate Writing Symposium page.
All questions about the Undergraduate Writing Symposium should be directed to the Writing Studioat writing.studio@vanderbilt.edu.