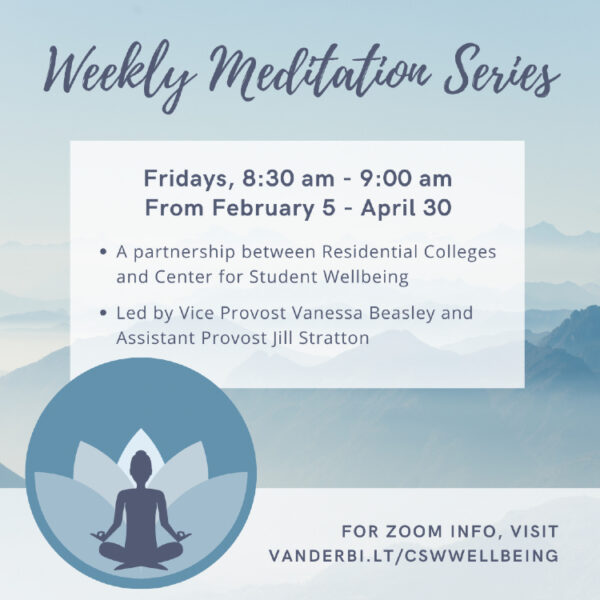 As students enter the final month of classes for the spring 2021 semester, they are invited to join the Center for Student Wellbeing's virtual meditation sessions featuring Vanessa Beasley,  vice provost for academic affairs and dean of residential faculty, and Jill Stratton, assistant provost for experiential learning and associate dean for residential colleges.
The meditation series occurs every Friday at 8:30 a.m. CT through April 30.
Evidence suggests that mindfulness practices are a powerful tool to support health and wellness. Meditation can help regulate emotions, reduce stress and anxiety, increase resilience and build self-awareness.
Beasley has long been an advocate of meditation, leading meditations in 2018 as dean of The Martha Rivers Ingram Commons.
"It is a powerful and unique experience for students to meditate with Vanderbilt faculty, staff and administrators," said Rachel Eskridge, director of the Center for Student Wellbeing. "We are grateful to Vice Provost Beasley and Assistant Provost Stratton for taking time each week to connect with and support our students, especially given the stress many are experiencing due to COVID-19."
"Taking the opportunity to meditate each Friday for 30 minutes is something that I look forward to each week," Stratton said. "It provides time and space to focus on the present moment. Please join Vice Provost Beasley and me next Friday if you are interested in exploring meditation and mindfulness. All levels, including beginners, are welcome."
Students are encouraged to visit the Center for Student Wellbeing website to join the Zoom meditation and learn more about the CSW's weekly well-being offerings.