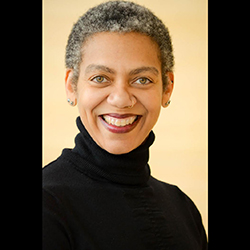 Rhonda Y. Williams, the John L. Seigenthaler Professor of American History, will deliver the next lecture in Vanderbilt Law School's Dean's Lecture Series on Race and Discrimination. The online event will be on Wednesday, March 31, beginning at noon CT. All are invited to attend.
The Dean's Lecture Series on Race and Discrimination annually convenes scholars and thought leaders to provide the Vanderbilt community with foundational knowledge on race, civil rights, discrimination on the basis of gender and sexual orientation, and critical historical milestones and their importance. The series' aim is to ground our understanding of present-day discourse in a deeper, historically informed context to highlight social and political movements, impetus for legal changes, and ongoing areas of contention and struggle in race, civil rights and discrimination.
Williams is a historian of low-income Black women's and marginalized people's experiences, everyday lives, politics and social struggles. Her research contributes to the rethinking of gender, political identity, citizenship, civil rights, Black liberation struggles and interactions with the U.S. state.
She is the author of the award-winning The Politics of Public Housing: Black Women's Struggles against Urban Inequality (2004) and Concrete Demands: The Search for Black Power in the 20th Century (2015). She is also the author of numerous articles and essays, including the forthcoming book chapter, "Women, Gender, Race, and the Welfare State" in the Oxford Handbook for Women's and Gender History, co-edited by Lisa Materson and Ellen Hartigan-O'Connor. In addition, Williams is the co-editor of the book series Justice, Power, and Politics from the University of North Carolina Press and is co-editor of Teaching the American Civil Rights Movement.