As Vanderbilt reflects on the one-year mark of the COVID-19 pandemic and its impact, we are honoring the dedicated staff, faculty and students who rallied to support our One Vanderbilt mission and ensured that the university adapted amidst unprecedented challenges.
 Hanan fakhruddin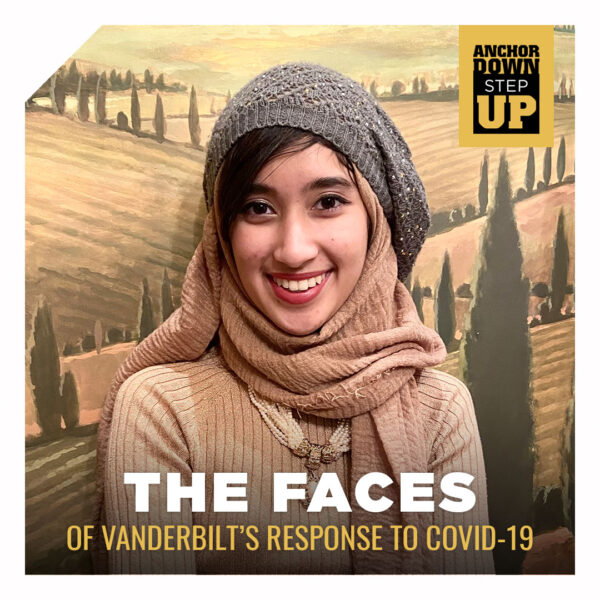 Class of 2021, medicine, health and society and child development double major, Nashville, TN
"Hanan has served this whole year of the pandemic as the president of the Muslim Students Association. She has worked with the university to ensure members of her community can participate in regular Friday prayer services while observing the necessary COVID guidelines. Hanan and her leadership team also coordinated MSA members to create care packages for Vanderbilt's dining services workers."
–The Rev. Dr. Christopher Ross Donald, Office of Religious Life
How has COVID-19 impacted you?
I think everyone to a certain degree has been impacted by COVID. Some have bore the brunt losing close family members and friends, while others are suffering from poor mental health from social isolation and the stressors of all this uncertainty. Though I may not be going through the same struggles others are, I often think about this saying in Islam, about how the community is like a body: When one part of the body is hurting, the whole community should feel it. If we are able to empathize and feel each other's pain, we become more motivated to support and uplift one another.
What keeps you motivated to help?
I have always been someone who is motivated to help others. Since childhood, being able to help and be there for people in need is what has given me energy and a purpose in life. During this pandemic, we have seen more people suffering through more hardship than ever. Being stuck at home and not being able to help others when I knew so many people were in need was very hard. But after some time I realized that if I were creative enough, I'd be able to continue helping people in new, meaningful ways. From tutoring underprivileged kids and volunteering at food distributions to working in crisis intervention, I feel privileged to be able to have these opportunities to help others.
Who do you step up for?
I step up for my community. To me, community means everything, and the way I see it, everyone are my brothers and sisters, which helps me feel personal responsibility and compassion towards all. From the vibrant community at Vanderbilt with my friends, peers and staff to the greater Nashville community, I strive to step up for everyone in both small and big ways.