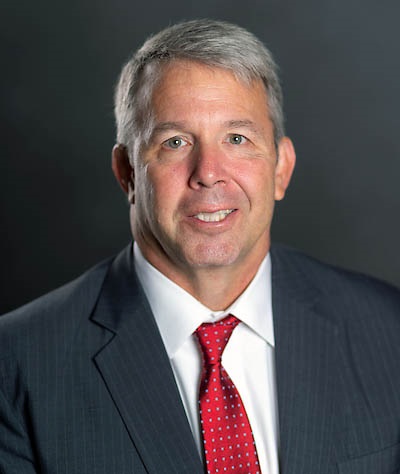 Retired U.S. Army Brig. Gen. Scott E. Brower, who has helped shape Tennessee's response to the COVID-19 pandemic with the benefit of his extensive military leadership experience, has been named director of Vanderbilt University's Bass Military Scholars Program, effective May 17.
Brower will succeed retired U.S. Army Lt. Gen. Gary H. Cheek, who previously announced that he would step down as director of the program, after a transition this spring.
"Scott Brower is the ideal role model—with his distinguished record of service—to inspire and mentor our Bass Military Scholars," said Provost and Vice Chancellor for Academic Affairs Susan R. Wente. "I know that he will sustain the momentum created by our inaugural director, Gary Cheek, and I look forward to continued success for this transformational program."
In March 2020, Gov. Bill Lee appointed Brower to serve as chief of staff for the Unified Command Group, which has been working to streamline Tennessee's coordinated response to the pandemic. Brower came into the role after serving in the U.S. Army for more than 29 years.
A 1989 West Point graduate, Brower first served in Operation Desert Storm as a member of the 8th Infantry Division (Mechanized) in Mainz, West Germany. He later had staff assignments with the U.S. Special Operations Command in Tampa, Florida, and the U.S. Army Special Operations Command in Fort Bragg, North Carolina, and educational assignments at Command and General Staff College, the Naval Postgraduate School and the Air War College.
His combat service after the events of Sept. 11, 2001, included several tours to Afghanistan, Iraq and Pakistan. He served in the 5th Special Forces Group, stationed at Fort Campbell, Kentucky, for more than a decade.
During Brower's final military assignment at Fort Campbell, he led the 101st Airborne Division and Fort Campbell as acting senior commander.
The Bass Military Scholars Program supports up to 40 scholarships and programming for honorably discharged military veterans pursuing graduate and professional degrees at the Law School, the Owen Graduate School of Management, Peabody College of education and human development, the School of Medicine and the School of Nursing. Vanderbilt established the program in 2018 with a $25 million gift from the Lee and Ramona Bass Foundation to honor the leadership traits and commitment to service embodied by current and former members of the U.S. military.
"I'm very excited to join the Vanderbilt team and the Bass Military Scholars Program," Brower said. "This program serves as a platform to help extremely talented young men and women transition from the military, while also educating many businesses and institutions on what veterans can bring to their organizations. With the strong support of Vanderbilt's leadership, I truly believe the possibilities of where we can take this program are nearly limitless."
Brower has been serving as military adviser-in-residence to the president of Austin Peay State University. He is a board member of Centerstone Military Services, a nonprofit mental health company focused on the care of veterans and their families.