Media Inquiries
Latest Stories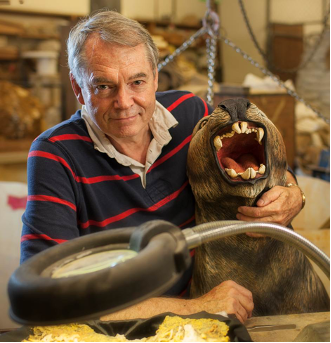 The Vanderbilt Evolutionary Studies Initiative is hosting a free presentation by prominent paleoconservationist Michael Archer, who will discuss how understanding ancient life can help conservationists save endangered species today.
Archer, professor and head of the vertebrate paleontology laboratory and the Earth Sustainability Science Research Center at the University of New South Wales, will present "Paleoconservation: Learning from the past, to understand the present, to better conserve the future." The virtual event will be Wednesday, March 24, at 3:10 p.m. CT. The discussion is open to the public; registration is required.
Archer is best known for his scientific work on the Riversleigh World Heritage Site, a fossil site in northwestern Queensland that has revealed tens of thousands of specimens of more than 300 species. His early work on the site helped clarify the evolution of life in Australia, including a critical transition from rainforests hosting tree-dwellers to more open habitats that are now home to kangaroos.
Currently, Archer is focused on efforts to conserve the critically endangered alpine mountain pygmy-possum. He has determined that the possum's ancestors lived in much warmer forest wetlands, and Archer's work, combined with conservation efforts of the Prague Zoo and the Australian Ecosystems Foundation, has led to the establishing of a mountain pygmy-possum breeding facility in Secret Creek Sanctuary. This should enable experimental releases of the animal into its ancestors' preferred habitat.
In 2013, Archer and The Lazarus Project reported growing the first living cloned embryo from an extinct creature—the extraordinary gastric-brooding frog. He also is leading efforts to try to bring back the Tasmanian Tiger, which was last seen in the 1930s.
Archer has supervised more than 80 research student degrees, produced more than 400 scientific publications (including 15 books) and received a range of awards, including fellowships in the Australian Academy of Science, Royal Society of New South Wales, Royal Zoological Society of New South Wales, Australian College of Educators, Eureka Prize for Promoting Understanding of Science, Member of the Order of Australia, the Australian Centennial Medal from the Federal Government of Australia and the highest global award in the field of vertebrate paleontology: the Romer-Simpson Medal from the Society of Vertebrate Paleontology in 2019. Archer is also former dean of science at UNSW and former director of the Australian Museum.
The Vanderbilt Evolutionary Studies Initiative was established in August 2019 to unite a diverse array of scholars from a variety of disciplines with broad interests and expertise in evolution-related fields.