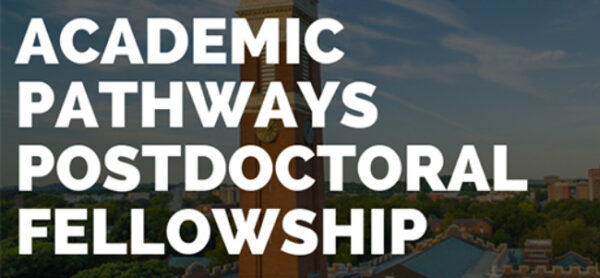 Two Provost Postdoctoral Fellows have joined Vanderbilt University this academic year as part of the Academic Pathways program.
Academic Pathways creates a bridge from academic training to entry-level faculty positions for recently graduated doctoral and law students from a diverse array of backgrounds, identities and experiences. The postdoctoral training initiative is designed to address the acute need for greater diversity within the professoriate.
Isidora Miranda, Ph.D., joined the Department of Musicology and Ethnomusicology at Vanderbilt Blair School of Music in August 2020, working with Douglas Shadle, associate professor of musicology. Isaiah Bolden, Ph.D., joined the Department of Earth and Environmental Sciences in the College of Arts and Science in January 2021, working with Jessica Oster, associate professor of earth and environmental sciences.
The Academic Pathways program provides fellows with professional development, empowering them to acquire the skill set necessary for success in today's academic settings, as well as a robust mentoring framework. The Provost's Office for Inclusive Excellence partners with the Office of Faculty Affairs to provide these professional development opportunities.
One of the program's goals is to prepare postdoctoral scholars to be highly competitive candidates for academic careers through focused professional and leadership development and direct access to faculty mentors.
"I was drawn to the Academic Pathways program because of the opportunity to work with world-renowned scholars and musicians at the Blair School of Music," Miranda said. "As a fellow, I've had a rewarding experience so far, working on my research while in turn learning how to mentor young music scholars."
The program includes teaching and leadership training, grant and manuscript writing and preparation, a multi-level mentoring framework and substantial "protected time" for the pursuit of each fellow's academic and scholarly objectives.
"Though my time as a fellow only began in January, numerous aspects of the program have allowed me to hit the ground running with my proposed postdoctoral research," Bolden said. "My mentor, host department, the Academic Pathways staff and other past and current fellows have been incredibly welcoming and supportive of my research interests.
"I have expanded my network of mentors and collaborators—as much as one can during a global pandemic—and have started to plan a field research season for fall or winter 2021," Bolden continued. "Any postdoctoral experience can be stressful and challenging. I am grateful for the significant influence of mentorship, structure and guidance from advisers and other tenured faculty members who are helping me along my journey as an Academic Pathways fellow."
The 2020-21 fellows are building on the success of past and current Academic Pathways participants. Lillian Brady, a previous fellow from 2017, received a K99/R00 MOSAIC Postdoctoral Career Transition Award from the National Institutes of Health, and Valeria Reyes Ruiz, a current fellow from the 2019 cohort, received a Hanna H. Gray Fellowship from the Howard Hughes Medical Institute. In addition, Justin Dunnavant, a current fellow from the 2019 cohort, was recently featured in the Hulu streaming series Your Attention Please, which highlights Black innovators and creators.
"The NIH MOSAIC award will be instrumental in my career development and will provide the proper foundation I need to be able to reach my career goals of mentoring diverse scientific minds and becoming a successful independent investigator in the neuroscience field," Brady said. "The Academic Pathways program's multi-level mentoring framework and professional development components, as well as the built-in connections that accompany the program, were significant contributions to the development of my research and the recognition I've received within my field."
"Being named an HHMI Hanna H. Gray Fellow means so much to me," Ruiz said. "It provides the opportunity to continue making significant discoveries in the area of infectious diseases, as well as provides a platform to continue supporting and advocating for students interested in science by listening, sharing my experiences, and working within the community to foster a welcoming environment for everyone. Academic Pathways provided me with the opportunity to establish a mentoring network early on during my postdoctoral experience that helped me tremendously in this achievement."
The Provost's Office for Inclusive Excellence is using the 2020-21 academic year to review and assess the Academic Pathways program and integrate its role into the overall portfolio of OIE going forward. As a result, there will not be an application cycle to select a cohort for 2022-23.