By Carrie Moore
Center for Effective Lawmaking identifies Sens. Peters and Rubio and Reps. Lowey and McCaul as most effective Democratic and Republican lawmakers of the 116th Congress
Democrats were much more active in bill sponsorship in 116th than in 115th Congress
Despite being in the minority party, Democratic senators produced more laws than any Senate minority party in past half century
Read more insights from the research: The Vanderbilt Project on Unity & American Democracy
Sens. Marco Rubio, R-Fla., and Gary Peters, D-Mich., along with Rep. Michael McCaul, R-Texas, and retired Rep. Nita Lowey, D-N.Y., were the most effective Republican and Democratic lawmakers in the recently completed 116th Congress (2019–20), according to new research from the Center for Effective Lawmaking.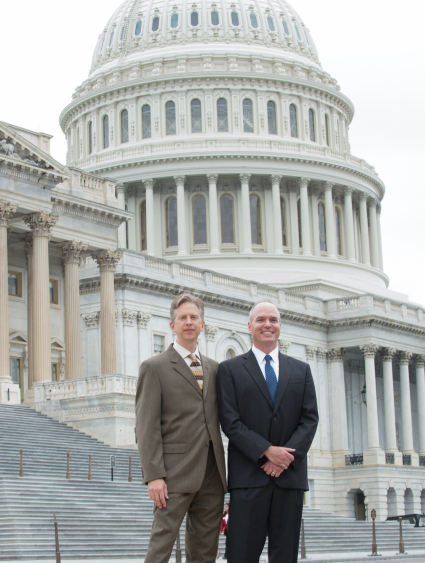 The legislative effectiveness scores are at the core of the research conducted at the Center for Effective Lawmaking, co-directed by Alan Wiseman, Cornelius Vanderbilt Chair and professor of political science and law at Vanderbilt University, and Craig Volden, professor of public policy and politics at the University of Virginia's Frank Batten School of Leadership and Public Policy.
"While political talking points and ideology-fueled headlines may gather more attention, bill advancement is the key to effectiveness for every elected lawmaker in Congress," Volden said. "The Center for Effective Lawmaking is committed to undertaking legislative effectiveness research as a valuable tool, allowing American citizens to understand which officials are overcoming gridlock through bill sponsorship and advancement."
"Even in these politically challenging times, bipartisanship appears to pay off for those who seek to advance their legislative initiatives," Wiseman said. "The secret to success for Sen. Gary Peters, the most effective lawmaker of the Senate in the 116th Congress, was in coalition-building. Sen. Peters had at least one Republican co-sponsor on each of his successful bills; and it was often the case that more Republicans than Democrats signed onto his bills. This alone is an accomplishment, as more than 93 percent of Democratic senators' bills died in committee in this congress."
Sen. Peters attained the highest legislative effectiveness score by sponsoring 86 public bills ranging from agriculture, defense and transportation to science and technology. Twenty-four advanced out of committee to the floor of the Senate, 14 of those bills passed the Senate, and 10 became law. This total exceeds the previous record of seven laws by a minority-party senator, which took place most recently in the 107th Congress (2001–02) by Sen. Ben Nighthorse Campbell (R-Colo.).
New patterns and trends from the Center for Effective Lawmaking's report on the 116th Congress include:
Despite minority party status, Democratic senators were surprisingly successful in advancing their bills in the 116th. The number of bills that Democratic senators introduced that passed the Republican-controlled Senate has been steadily rising over the last three congresses. They produced more laws than any Senate minority party in the CEL's dataset (which extends back to 1973), even when excluding commemorative bills.

Democratic women, especially Democratic women in the Senate, continue to rank highly in the 116th Congress. (Sens. Cortez Masto, Duckworth, Klobuchar and Shaheen are prime examples.)

Democratic representatives and senators were more active in bill sponsorship during the 116th than the 115th Congress. This was no surprise in the House, given their move to majority status in the 116th. In the Senate, Democratic-led bill sponsorships unprecedentedly outpaced majority-party Republicans.
The trend of diminished power of committee chairs continues. Committee chairs in the 116th House and Senate continue a trend of decreasing lawmaking effectiveness as consistently reported in CEL's comprehensive dataset (1973–2020). This finding can be traced back to reforms from the mid-1990s.
Notably, lawmaking effectiveness has not proven to be a guarantee of electoral success, helping more in limiting primary election challengers than in winning general elections.
The legislative effectiveness scores are released biannually following the conclusion of each congress. The CEL identifies the top 10 most effective lawmakers in the Democratic and Republican parties in the U.S. Senate and U.S. House of Representatives, plus:
Legislators who have the longest continuous streaks of "exceeding expectations" in lawmaking effectiveness in the House and Senate.
Leading freshman legislators in the 116th Congress who were especially effective lawmakers.
New to the report, those members by party and chamber who were the most effective lawmakers in each of 21 different policy areas.
Legislative effectiveness scores are based on 15 metrics that take into account the number of bills a legislator sponsors, how far each of those bills advances through the legislative process from introduction to (possibly) becoming law, as well as its relative substantive significance.
Full rankings, methodology and an executive summary may be found at thelawmakers.org.
The Center for Effective Lawmaking seeks to advance the generation, communication and use of new knowledge about the effectiveness of individual lawmakers and legislative institutions in Congress. The CEL envisions a congress made up of effective lawmakers, strong institutional capacity, and the incentive structure needed to address America's greatest public policy challenges.
For more information on the Center for Effective Lawmaking, visit thelawmakers.org.