Media Inquiries
Latest Stories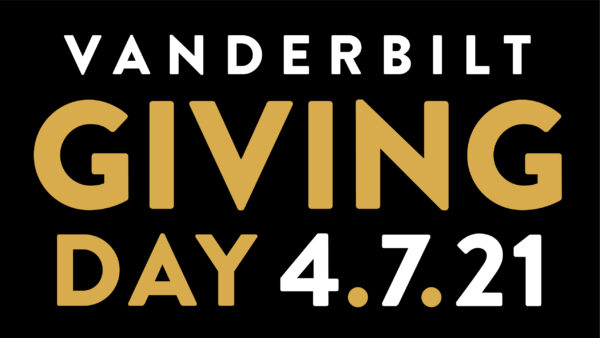 Vanderbilt University's annual Giving Day will be celebrated on Wednesday, April 7. The entire Vanderbilt community is invited to take part in this 24-hour event, which will include challenges throughout the day to amplify impact.
Giving Day is an opportunity for Vanderbilt faculty, staff, students, alumni, parents and friends to help advance the university's mission of education, discovery and leadership by making a gift of any size. It's also a chance to celebrate the impact that philanthropy has on the student experience. Student organizations will have a chance to win up to $4,000 in challenge gifts, and pop-up events and giveaways will be offered throughout the day on April 7. Additional details will be released soon.
"I plan to make a gift on Giving Day so that I can help finance the undergraduate education of a future Vanderbilt student in the same way that I have been helped throughout my four years here," senior Peyton Boyd said. "I would encourage my peers to think about the impact their donation can have on a current or future student, as even the smallest donation can go a long way."
Gifts of all sizes combine to make a difference and may be made to any area of Vanderbilt, including student organizations, colleges and schools, Experience Vanderbilt, Opportunity Vanderbilt, Vanderbilt Athletics and many more.
"I know how much I have benefited from philanthropy, and because of it I am in a position now where I can give back and help support the organizations that mean so much to me," senior Kelly Edwards said. "Even if you can only give a dollar, that dollar can go to a student organization like Experience Vanderbilt or Alternative Spring Break that means something to you and can help keep that organization alive for generations of students to come. Give back to the places that brought you the most joy."
Vanderbilt Giving Day did not take place in 2020 due to the pandemic. In 2019, more than 8,200 members of the Vanderbilt community came together to raise more than $9.4 million in support of the university's mission.
Learn more at vu.edu/givingday.