Media Inquiries
Latest Stories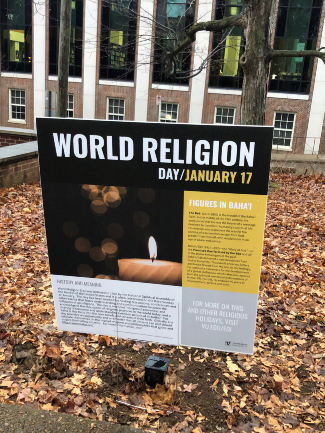 The Office for Equity, Diversity and Inclusion and the University Staff Advisory Council have partnered on an initiative to celebrate the myriad cultures, identities and voices that comprise the Vanderbilt community.
Launched in January 2021, the Heritage Month Project showcases events and individuals, including current Vanderbilt community members and alumni, through rotating poster displays at locations across campus. USAC's Equity, Diversity and Inclusion Committee selects the monthly themes and the events or individuals that are featured.
"The purpose of this project is to recognize the rich tapestry of experiences represented at the university and, through these campus displays, inform our community as well as celebrate the many identities, cultures and heritages that make up the Vanderbilt family," said Dr. André L. Churchwell, vice chancellor for equity, diversity and inclusion and chief diversity officer for the university and for Vanderbilt University Medical Center.
The monthly displays celebrate the following themes, with more to be added throughout the year:
January – World Religions Day
February – Black History Month
March – Women's History Month
April – Autism Awareness Month
May – Asian/Pacific American Heritage Month
June – LGBTQ+ Pride Month
The ground-mounted posters can be found in the West End Neighborhood, on Alumni Lawn near Rand Hall, on Library Lawn behind Godchaux Hall, along the main walkway near 21st Avenue South across from the Baker Building, near the base of the 21st Avenue pedestrian bridge on the Peabody College campus, on The Martha Rivers Ingram Commons near the Hobbs Building, and adjacent to the Highland Quad along 25th Avenue South.
To learn more, visit the Heritage Month Project website.