Media Inquiries
Latest Stories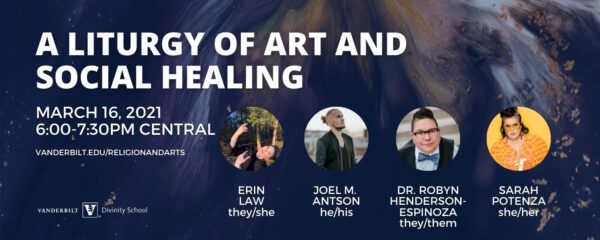 "I think about social healing as a form of collective liberation," says Dr. Robyn Henderson-Espinoza as they describe their work through the Activist Theology Project. "So, as someone who thinks about the ways that stories shape us and the ways that art is story, how might the intersection of art and social healing actually revolutionize our theologies?"
Dr. Henderson-Espinoza will explore these questions alongside their co-creators at the upcoming Liturgy of Art and Social Healing on Tuesday, March 16. The liturgy is hosted by the Religion in the Arts and Contemporary Culture program at Vanderbilt Divinity School and is part of the Relevant Religion series.
The liturgical service will include a spoken word performance by Joel Markus Antson, a sermon on politicizing both spirituality and revolution by Dr. Robyn Henderson-Espinoza, guided embodiment experiences with Erin Law, and music sung by Sarah Potenza. The liturgy will be followed by a panel with the four co-creators.
According to Henderson-Espinoza, the unique perspective from each speaker will encourage attendees to consider the intersection of art, spirituality, and politics in a new way. "The way that art materializes, whether visual, performance, or image, generates an invitation for us to think through our social practices and our inherited beliefs," they said.
Gathering Information
A Liturgy of Art and Social Healing
Date: Tuesday, Mar. 16, 2021
Time: 6-7:30 p.m. CT
Format: The gathering will be streamed virtually in accordance with COVID-19 precautions.
>>>>Registration is required. Register in advance to receive a link to the Mar. 16 gathering.
About the co-creators
Joel Markus Antson, aka JMA (him/his) is an encouraging spoken word artist and an aspiring therapist from Estonia. He is an MTS candidate at Vanderbilt Divinity School and studying Imago Relationship Therapy. In his music, JMA combines his love for therapy and social justice to produce soundtracks of hope, healing, and transformation. Antson believes in the liberating power of the song and the people uniting in singing for a common cause.
Erin Law (they/she) has a background in dance, somatics, bodywork and cultural studies.  Their call and vocation is to facilitate educational spaces rooted in creative embodied practice that supports people and communities who are ready and willing to unhinge from supremacy culture and lean into collective liberation.  She is currently the Embodiment & Somatics Curator at Activist Theology Project, a Nashville-based collaborative project that seeks to work with the dominant culture and produces curriculum at the intersection of scholarship and activism.
Robyn Henderson-Espinoza, PhD (they/them) has been described in a myriad of ways: a scholar-activist, scholar-leader, thought-leader, teacher, public theologian, ethicist, poet of moral reason, and word artist. Among these ways of describing Dr. Robyn, they are also a visionary thinker who has spent two decades working in the borderlands of church, academy, & movements seeking to not only disrupt but dismantle supremacy culture and help steward the logic of liberation as a Transqueer Latinx. Dr. Robyn is the Founder of the Activist Theology Project and was named 1 of 10 faith leaders to watch by the Center for American Progress.
Sarah Potenza (she/her) is a Nashville-based singer-songwriter and businesswoman. Potenza released her second solo album, Road to Rome, on International Women's Day in 2019. The songs are described as self-empowered R&B, swaggering soul, and contemporary blues. The album was produced by Jordan Brooke Hamlin (Indigo Girls, Lucy Wainwright Roche), and recorded with a female-heavy cast of collaborators. Potenza says of the album, "it's the story of all artists — particularly women, who remain the minority within the male-dominated music industry — who've learned to trust their instincts, refusing to let mainstream trends dilute their own artistic statements."