Media Inquiries
Latest Stories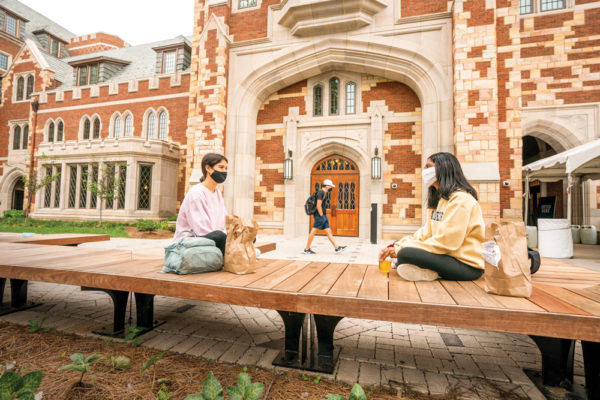 As Nashville begins to have consistent warmer weather, the university is encouraging students to enjoy campus outdoor spaces by updating its gathering size maximum for official on-campus, outdoor gatherings from eight to 12 people beginning Wednesday, March 10. 
This change recognizes the continued efforts of the campus community to follow campus health and safety protocols and comes as the university continues to take a cautious and incremental approach to its protocols so the Vanderbilt community can finish the semester strong and while the city increases its gathering size limits. 
Gatherings, Programmings and Activities FAQ>>
"To recognize the continued efforts of our community to comply with our health and safety protocols and testing program, we wanted to go beyond where we were in the fall, but still leave room for growth during the rest of the semester," said Assistant Provost and Deputy Dean of Students G.L. Black. 
This new gathering size update does not change the eight-person rule for indoor campus gatherings or for any informal student meetups, on or off campus. Masking and physical distancing protocols remain in place for all gatherings regardless of size or location.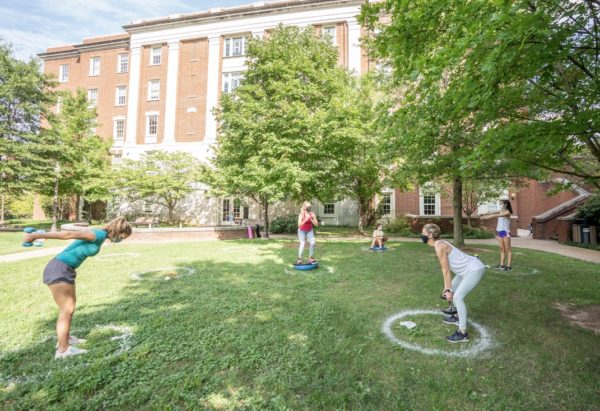 The university will be adding more outdoor amenities, such as outdoor furniture and lawn games, in a phased approach over the coming weeks to help facilitate outdoor engagement. 
These additions come after the Vanderbilt Student Government's Campus Life Committee worked closely with campus leaders such as Vice Provost for Academic Affairs and Dean of Residential Faculty Vanessa Beasley and Assistant Provost and Deputy Dean of Students G.L. Black to develop creative ideas for outdoor activities. 
"I am extremely encouraged to see the Campus Life Committee stepping up to offer solutions to help us constantly improve the student experience during this unprecedented time," Chancellor Daniel Diermeier said. "We value students working with us to make meaningful change." 
"We are emboldened by Assistant Provost Black and Vice Provost Beasley's empathy toward students' challenging social situation during the pandemic. We are thrilled that they, along with other administrators, are focused on working with students to design creative solutions to address these unique challenges. Hopefully the new outdoor amenities will be another step in bringing back Vanderbilt's vibrant on-campus culture," said VSG Campus Life Committee Chair Benjamin Goodman and committee member Abby Brand. 
To support those who want to spend more time outdoors, the university will reinstate painted circles indicating 6 feet of physical distance on campus lawns starting this week. Stickers will be added to various non-grassy areas to remind students of requirements for using outdoor spaces. No university-owned furniture may be moved from its current location. 
Vanderbilt community members also are encouraged to bring their own camp chairs and hammocks, while following campus protocols, to enjoy the university's outdoor spaces. Only one hammock is allowed per hammock post, and camp chairs must be placed at least 6 feet apart. Students should use the lawn circles to determine 6 feet of space between each other when placing their camp chairs outside. 
In the coming weeks, lawn games will also be added to outdoor spaces. Guidelines will be posted for following campus protocols and cleaning games after use.  
"Spring is always one of my favorite times on our campus, and this year is no different," Vice Provost Beasley said. "Students and faculty alike enjoy reading and studying outside as flowers and trees bloom. We want to provide opportunities and guidance for our community to enjoy being outside together as safely as possible." 
Student feedback also has helped bring VandyRadio music into the campus tents, and campus leaders are working to bring a stage to Wilson Lawn for programming. The stage will give a space for individuals to host showcases, musical performances and more. Once ready to use, the university will share details of how to reserve the stage and guidelines for using the space. 
Those with additional ideas on outdoor amenities and programming are encouraged to contact the Vanderbilt Student Government Campus Life Committee.