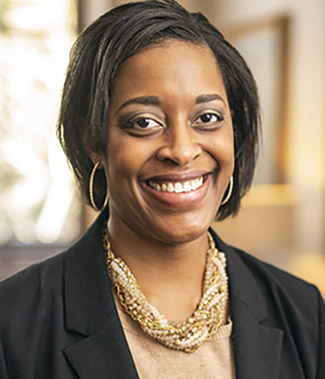 Candice S. Lee, Vanderbilt University's vice chancellor for athletics and university affairs and athletic director, will join a panel of administrators and student-athletes for "She Persisted: The Past, Present and Future of Women in Sports," a conversation about women's sports since the passage of Title IX in 1972. 
The discussion will take place Tuesday, March 16, beginning at 5 p.m. CT as part of Women's History Month. All are invited to register and attend the virtual event. 
Joining Lee will be Sharon Shields, senior associate dean of student empowerment, engagement and development at Peabody College of education and human development, as well as two current student-athletes: senior swimmer Kaley Buchanan and senior soccer player Olivia Simmons. Melissa Gresalfi, dean of The Martha Rivers Ingram Commons at Vanderbilt, will moderate the discussion. 
Despite its many challenges, and in some cases through those challenges, 2020 was a monumental year for women's sports in the United States. And on more than one occasion, Vanderbilt entered the national spotlight as a force for positive change on and off the field. 
In May, Vanderbilt appointed Lee as full-time athletic director. In addition to becoming the university's first female athletic director, she also became the first Black woman to hold that position at an SEC school. That occurred only 43 years after Teresa Lawrence-Phillips, BA'80, became Vanderbilt's first Black female student-athlete—and barely 20 years after Lee played for the same women's basketball program that Lawrence-Phillips pioneered. 
This past fall, Sarah Fuller helped lead Vanderbilt to an SEC Tournament championship in women's soccer—a sport that gained varsity status at the university only in 1987. Fuller then achieved even wider national recognition when she joined the football team and became the first woman from a Power Five conference to both play and score in a game.
Against that backdrop and looking ahead to the impending 50th anniversary of Title IX, the March 16 discussion will assess the state of women's sports in the United States—both the progress made since passage of the landmark legislation and progress still needed. 
The panelists represent an array of experiences in the age of Title IX. 
In addition to decades of award-winning research and teaching in higher education, with an emphasis on areas of social justice, diversity, gender equity and underserved populations as they relate to health and physical activity issues, Shields taught middle school physical education for three years after completing her undergraduate studies at the University of Louisville. Those short stints at Louisville's Bruce Middle School and Conway Middle School spanned the years before and after passage of Title IX. 
Lee is part of the first generation of women to grow up within the lifespan of Title IX, compete in the NCAA era of women's college sports (the NCAA began sponsoring women's championships in most sports in 1982) and then enter the coaching or administrative ranks. 
Buchanan, whose times rank among the fastest in school history in the 100 and 200 individual medleys, and Simmons, who started in last fall's SEC tournament final, are products of women's sports in the 21st century. At least symbolically beginning with the 1996 Olympics and growing through the likes of the U.S. women's national soccer team and WNBA activism, they grew up in a world of expanding opportunity to play—but also to speak out about inequalities that remain.