Media Inquiries
Latest Stories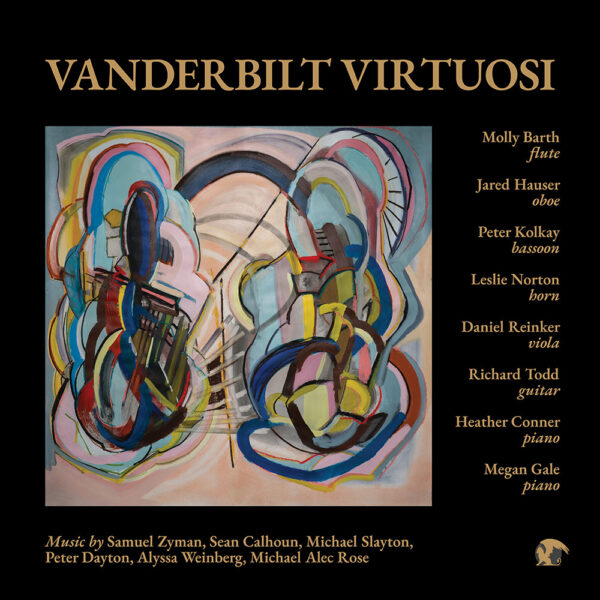 Vanderbilt Virtuosi, an album of works composed and performed by faculty and alumni of Vanderbilt Blair School of Music, was released on the Blue Griffin label in February. Molly Barth, associate professor of flute, spearheaded the two-year project, drawing upon the great wealth of performing talent at Blair to showcase the stylistic range of faculty and alumni composers writing contemporary chamber music for wind instruments.
The album resulted from a Vanderbilt Research Scholar Grant awarded to Barth in 2019. Recording wind instrument performances in the Martha Rivers Ingram Center for the Performing Arts last June during the early days of the pandemic presented new challenges, according to Barth.
"We stood quite far apart from each other," Barth said, "which makes hearing one another more of a challenge. We wore masks to limit the spread of aerosols, which makes the visual cues necessary to play music precisely together less apparent. That said, the feeling of camaraderie and unity was more profound than ever. We all thrive in the performance arena, and it felt very good to have a project to get behind as a team."
The team includes faculty members Jared Hauser, associate professor of oboe, Peter Kolkay, associate professor of bassoon, Leslie Norton, associate professor of French horn, Daniel Reinker, adjunct associate professor of viola, Richard Todd, adjunct associate professor of guitar, Heather Conner, professor of piano and holder of the Chancellor's Chair, and pianist Megan Gale, adjunct artist teacher of collaboration. They played works by composers Samuel Zyman, professor of music theory and analysis, Michael Alec Rose, professor of composition, and Michael Slayton, associate professor of composition and theory. Blair alumni composers include Sean Calhoun, BMus'14, Peter Dayton, BMus'12, and Alyssa Weinberg, BMus'10.
Zyman, long based at the Juilliard School, joined the Vanderbilt Blair faculty in January 2020. On the recording Barth and Conner played Zyman's Sonata no. 1 for Flute and Piano (1994), considered a standard of flute repertoire. The album also includes the world premiere recordings of newly commissioned pieces by Calhoun and Rose, as well as a newly adapted piece by Slayton.
"Recording the music of Vanderbilt Blair composition faculty and alumni was exciting," said Barth, whose previous work with chamber music ensemble Eighth Blackbird won a Grammy Award. "To showcase the immense talent of Blair's performance faculty as well as alumni composers is noteworthy. The network of Blair graduates grows yearly, and Blair is increasingly in the spotlight for the quality of its program.
"I am very humbled and proud to be daily in the midst of such faculty and student talent and ingenuity," she said.