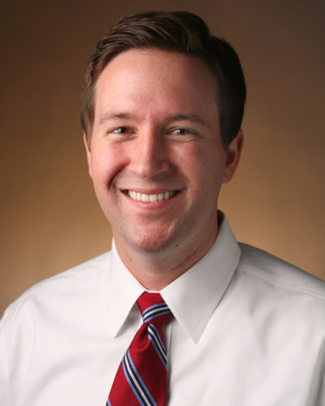 G.L. Black, who has played an integral role in Vanderbilt student affairs for nine years, has been named associate provost and dean of students. The appointment is effective May 17, following the retirement of longtime dean Mark Bandas.
Black, who currently serves as assistant provost and deputy dean of students, joined the university in 2011. He has served as associate director of student conduct and academic integrity, assistant dean of students and director of the Office of Student Accountability, Community Standards and Academic Integrity, and as an instructor in the Legal Research and Writing Program at Vanderbilt Law School. Black was a member of the 2016–17 Vanderbilt Leadership Academy cohort.
"We were fortunate to have such an outstanding deputy dean of students in place to step up into this role as dean. G.L. has repeatedly demonstrated his ability to lead and to advocate for and support students," Provost and Vice Chancellor for Academic Affairs Susan R. Wente said. "He has played a key role in helping develop and sustain many of our critical student services designed to promote and protect student well-being. He will provide incredible continuity as well as be focused on building further on the excellent foundation established by Mark Bandas."
In his current role, Black guides the collaboration of the Office of the Dean of Students staff to develop, sustain and improve co-curricular programs supporting student success and the strategic initiatives of the university. He also advises Bandas and all university colleagues on matters concerning students, student organizations, student services and programs, policy development, priorities and resource allocation. Additionally, he supports programs that advance a safe, secure, accessible and inclusive environment promoting students' academic success, well-being and personal and professional development.
"I am honored to serve the university, and particularly our students, in this role going forward and am grateful to Provost Wente, Dean Bandas and my Dean of Students colleagues for their support," Black said. "I will continue to focus on collaborative efforts across the institution and on finding new and innovative ways to engage students to enhance their experience at Vanderbilt and address the complex challenges facing college students today."
Black's previous experience at Vanderbilt also includes overseeing the operations of the Student Care Network, including the Center for Student Wellbeing, the Office of Student Care Coordination and the University Counseling Center, as well as the operations of the Office of Student Accountability, Community Standards and Academic Integrity and the Project Safe Center for Sexual Misconduct Prevention and Response.
He coordinated the university's honor system and appellate processes for students and oversaw student compliance with mandatory programs and activities, including the Protection of Minors policy. Black is the chair of the Campus Assessment, Response and Evaluation (CARE) Team and Welfare Panel to support students of concern and has served on the Chancellor's Strategic Planning Committee on Mental Health and Wellbeing and the Provost's Sexual Misconduct Prevention Committee.
Black earned his bachelor's degree in political science and criminology from the University of Florida and his J.D. from Harvard Law School.
At Harvard, he received the Dean's Award for Community Leadership from Dean Elena Kagan, who now is an associate justice of the U.S. Supreme Court. He began his career as a litigator at Sullivan & Cromwell LLP in New York, with a focus on criminal defense and internal investigations, labor and employment and antitrust work. He practiced law at Shutts & Bowen LLP in Tampa, Florida, before coming to Vanderbilt. While at Vanderbilt, Black earned his M.Ed. in higher education administration from Vanderbilt's Peabody College.