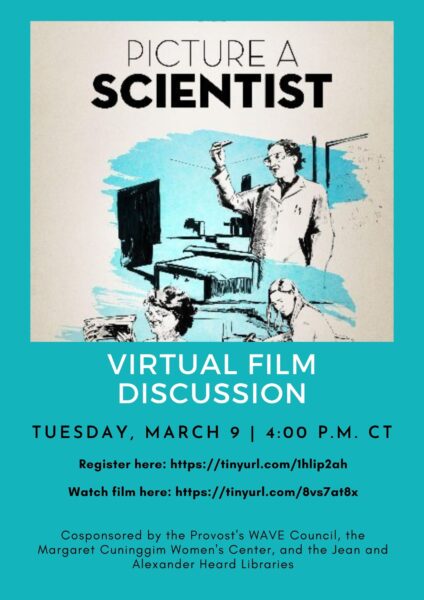 The Vanderbilt University community is invited to a panel discussion of the film Picture a Scientist on Tuesday, March 9, from 4 to 5 p.m. CT. Attendees can register for the virtual discussion in advance and will receive a Zoom link to join at the above time. 
Attendees are encouraged to stream the film ahead of the discussion through the Jean and Alexander Heard Library online.
Film synopsis | Picture A Scientist chronicles the groundswell of researchers who are writing a new chapter for women scientists. Biologist Nancy Hopkins, chemist Raychelle Burks and geologist Jane Willenbring lead viewers on a journey deep into their own experiences in the sciences, ranging from overt harassment to years of subtle slights. Along the way, from cramped laboratories to spectacular field stations, we encounter scientific luminaries—including social scientists, neuroscientists, and psychologists—who provide new perspectives on how to make science itself more diverse, equitable and open to all. (Run time, 93 minutes.)
This event is co-sponsored by the Provost's WAVE Council, the Margaret Cuninggim Women's Center, and the Jean and Alexander Heard Libraries.