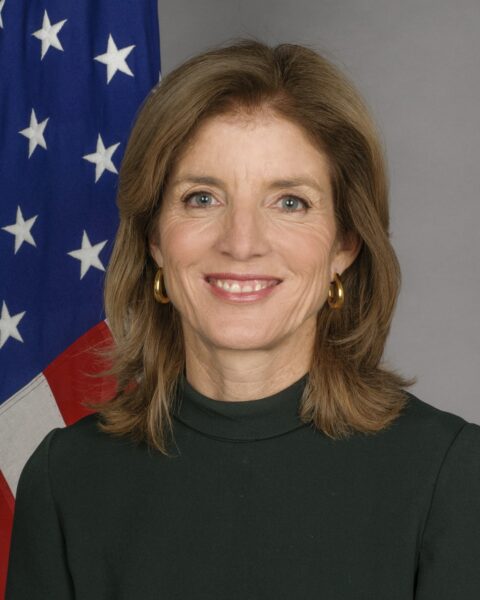 Caroline Kennedy, a bestselling author, attorney and former U.S. ambassador to Japan, will receive Vanderbilt University's prestigious Nichols-Chancellor's Medal when she speaks to Class of 2020 graduates and their families at their Graduates Day celebration. 
"It is fitting that Ambassador Kennedy, with her leadership of the John F. Kennedy Profile in Courage Awards program honoring her late father, will deliver remarks to Vanderbilt's Class of 2020," said Chancellor Daniel Diermeier. "These graduates persevered with tenacity and grace during one of the most challenging periods in our history. We are honored to host Ambassador Kennedy and award her Vanderbilt's Nichols-Chancellor's Medal."
Kennedy's virtual address will take place on Friday, April 30. The event is inclusive for all Vanderbilt undergraduate, graduate and professional students who graduated in the Class of 2020, and it is also open to all alumni. Kennedy had been scheduled to speak at Graduates Day in 2020 before the event was postponed due to the COVID-19 pandemic.  
The Nichols-Chancellor's Medal, one of the university's highest honors, is given to individuals who define the 21st century and exemplify the best qualities of the human spirit. It was created and endowed by Vanderbilt Law School graduate Ed Nichols and his wife, Janice, in honor of Edward Carmack and Lucile Hamby Nichols. 
Kennedy's address will take place as part of the Commencement 2020 celebrations, scheduled in person and on campus for May 1–2.
Kennedy, the daughter of President John F. Kennedy and Jacqueline Kennedy Onassis, has dedicated her life to public and philanthropic service. Kennedy was the first woman to serve as U.S. ambassador to Japan when she was nominated by President Barack Obama in 2013. During her tenure, she helped realize the U.S. military's return of nearly 10,000 acres on Okinawa to the Japanese government and played a pivotal role in Obama's historic visit to Hiroshima. She was also an advocate for Japanese women in business and politics. 
Kennedy has authored, co-authored or edited more than a dozen books on American history, politics, constitutional law and poetry. She has been active in school reform efforts with the Fund for Public Schools and is the honorary president of the John F. Kennedy Library Foundation.
Kennedy earned a bachelor of arts from Harvard University and a law degree from Columbia University. 
For more information about Graduates Day and other related events, including in-person and other virtual events for the Class of 2020, visit the Vanderbilt Class of 2020 Commencement website.